This Lotus Biscoff Lasagna made with Biscoff and cream-layered goodness – and it looks just as delicious as it sounds.
I don't know anyone that would say no to lasagna's either the spicy one or this sweet one. Although a word of warning – it is VERY RICH! You might need a lie down after you've eaten even a small portion!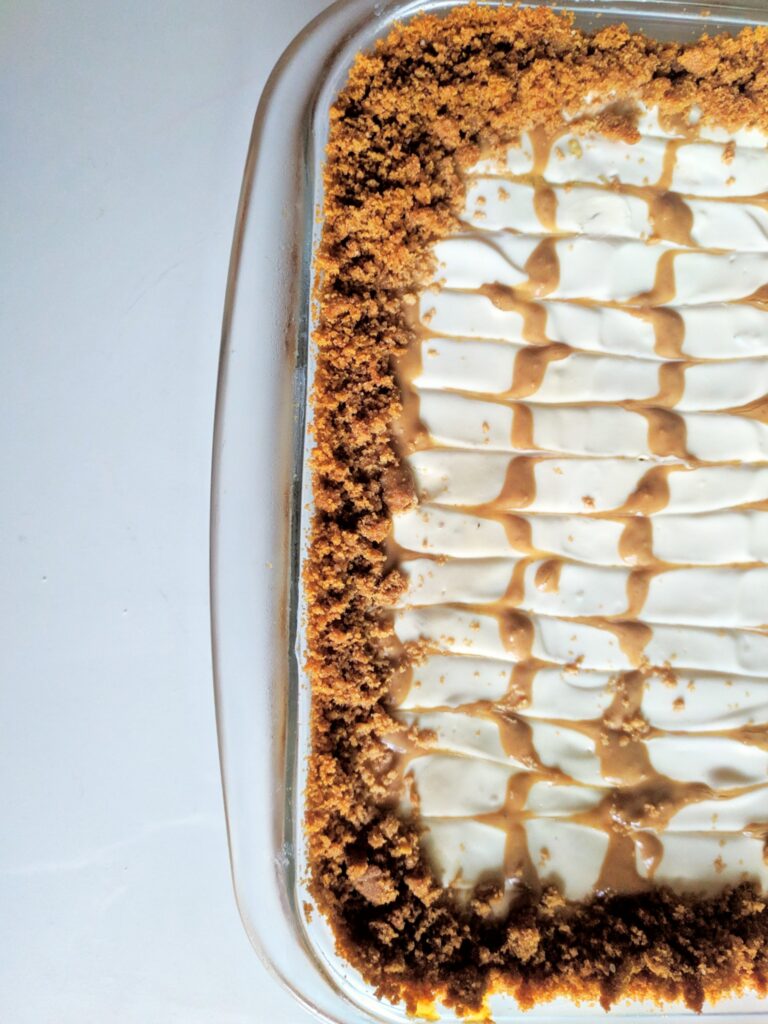 Lotus Biscoff Dessert Recipe:
This is an easy no-bake Biscoff lasagna recipe with a base layer of speculoos (lotus) biscuits, then comes a creamy center, and then it is topped with creamy biscoff speculoos spread.
This is such a decadent make ahead dessert, perfect for any occasion.
NOTE: If you live in Pakistan and India or in the areas where lotus biscuit is unavailable, you can also use Candy Biscuits. Its texture and flavor are almost the same as Lotus Biscuits.
Speculoos Vs Bicoff:
"Biscoff" is a combination of biscuit and coffee; it is Europe's favorite cookie with coffee, thus the name.
Speculoos is a generic name for traditional crispy spiced cookies in Belgium.
Biscoff cookies are speculoos cookies.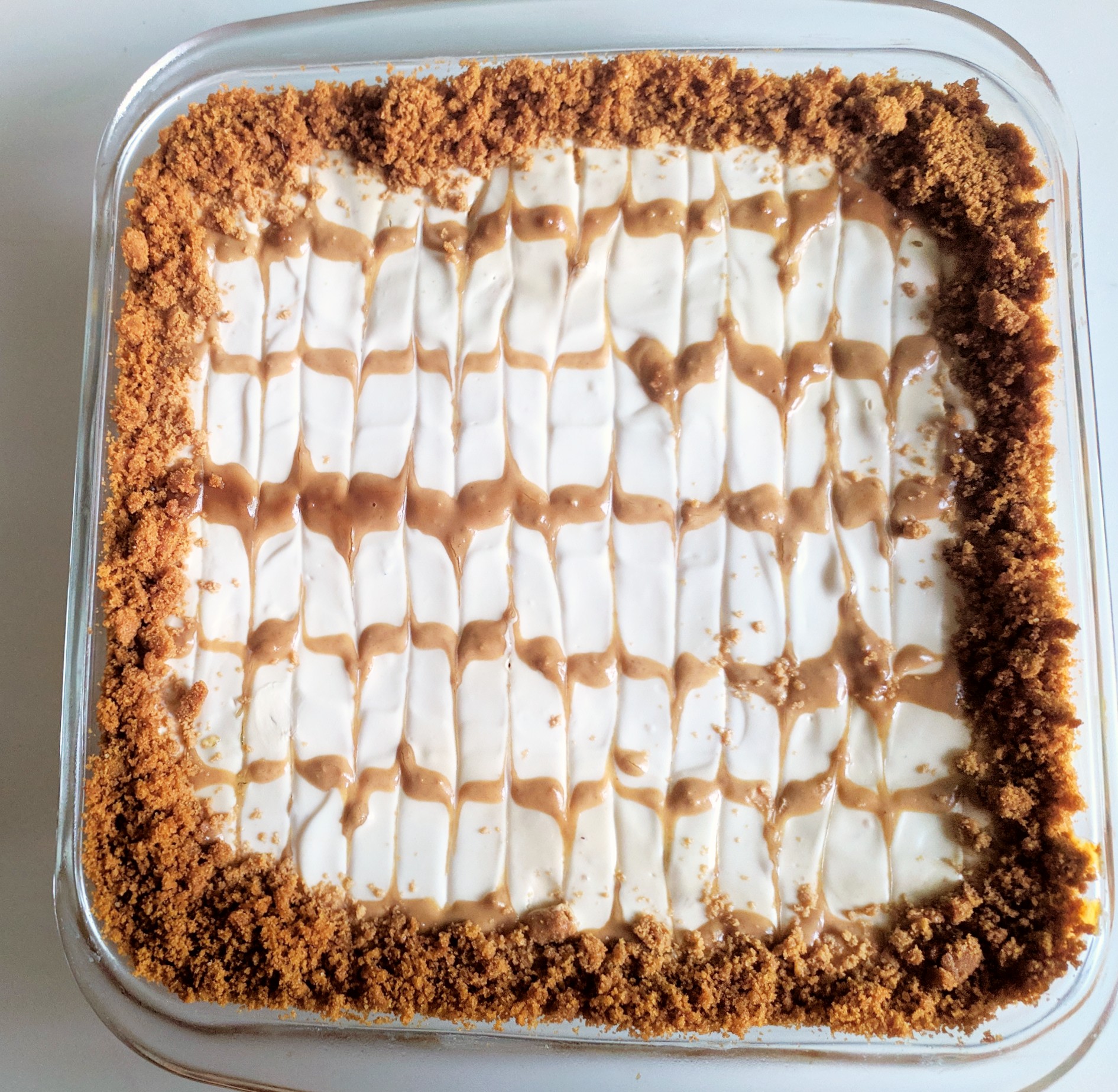 Lotus has been enjoying its moment of stardom in the Middle East for the last couple of years, and people can't seem to get enough of it.
Everything is now Lotus this and Lotus that, and just like Nutella, it is praised for having the capability of turning anything it touches into pure wonderfulness. Even if you put Lotus in a tray with a cup of tea and people would still eat it.
Father's Day 2020 special Dessert:
As you all know, Father's day is almost here, so I thought, why not make something special with kids to surprise their dad.
So to me, this lotus biscoff lasagna seems the easiest, quickest, and kids friendly recipe to make.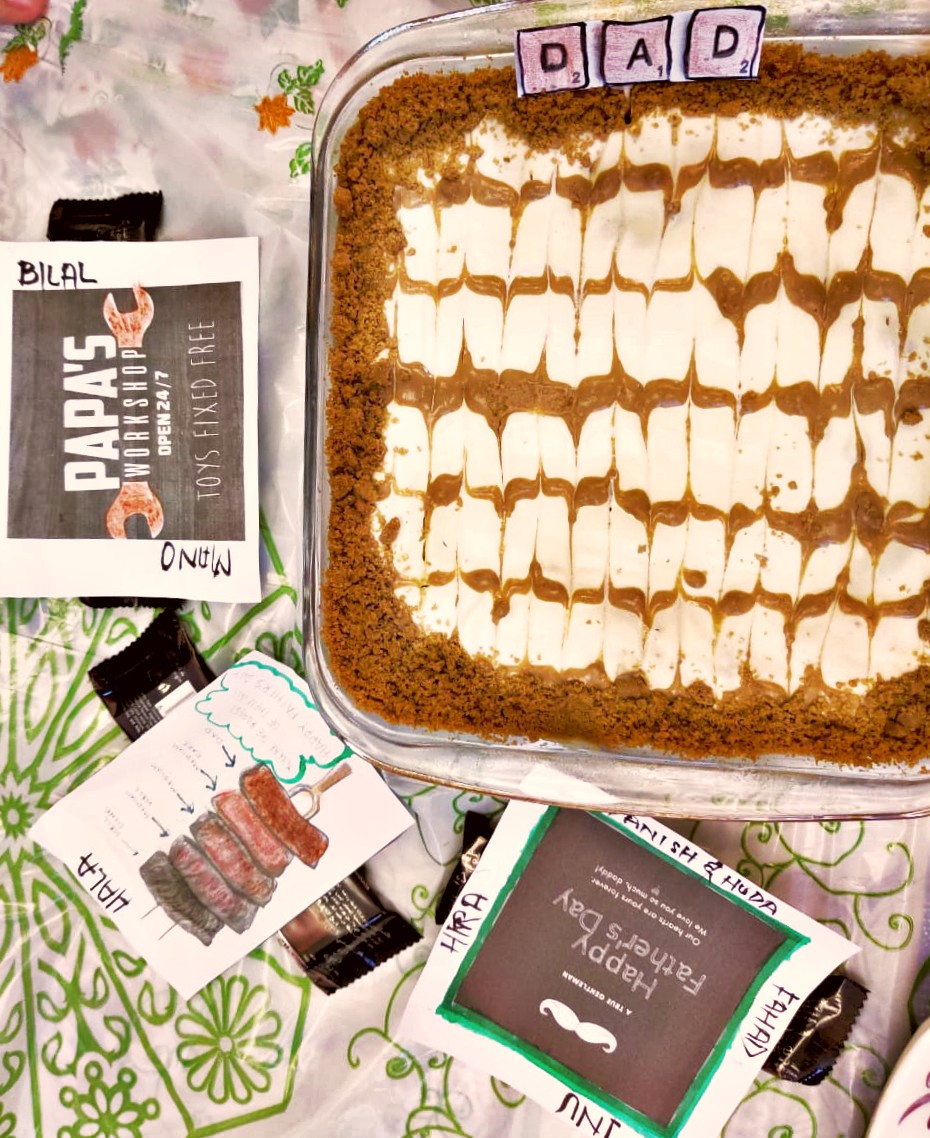 My kids were so excited to help me out. And make our own homemade dessert for dad. Another cute gesture we did for dad was that we print some cards and attach dark chocolate bars at the back of the cards. Check my Pinterest for more Father's day gifts, DIY craft ideas, and free printables.
Kids got involved in this and participated in each step, and their tiny tony hands could be seen in a few pictures below.
Literally, taking pictures while working with these little creatures is a huge task!
3 steps Lotus biscoff Lasagna:
Super easy to make consisting of only three steps, and the best part? This layered dessert has only five ingredients, so nothing is stopping you from making it at home. This is the kind of simplicity we need in our lives, right?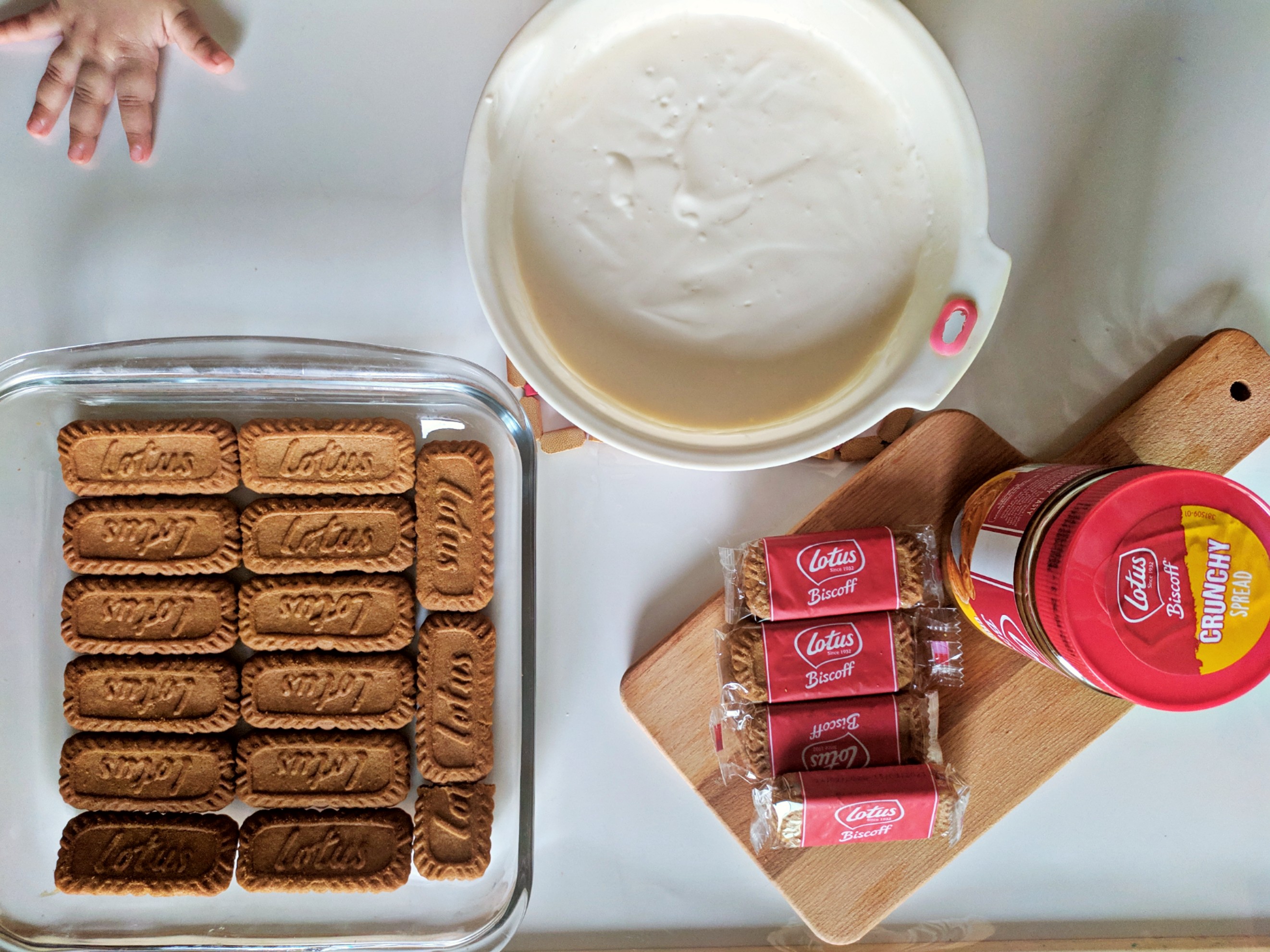 Biscoff cookies base Layer
Thick creamy layer
Lotus biscoff spread layer
Biscoff cookies Base layer:
We're all big fans of lotus biscoff biscuits in our house.These biscoff biscuits are light, crisp, and irresistibly tasty with hints of caramel and cinnamon.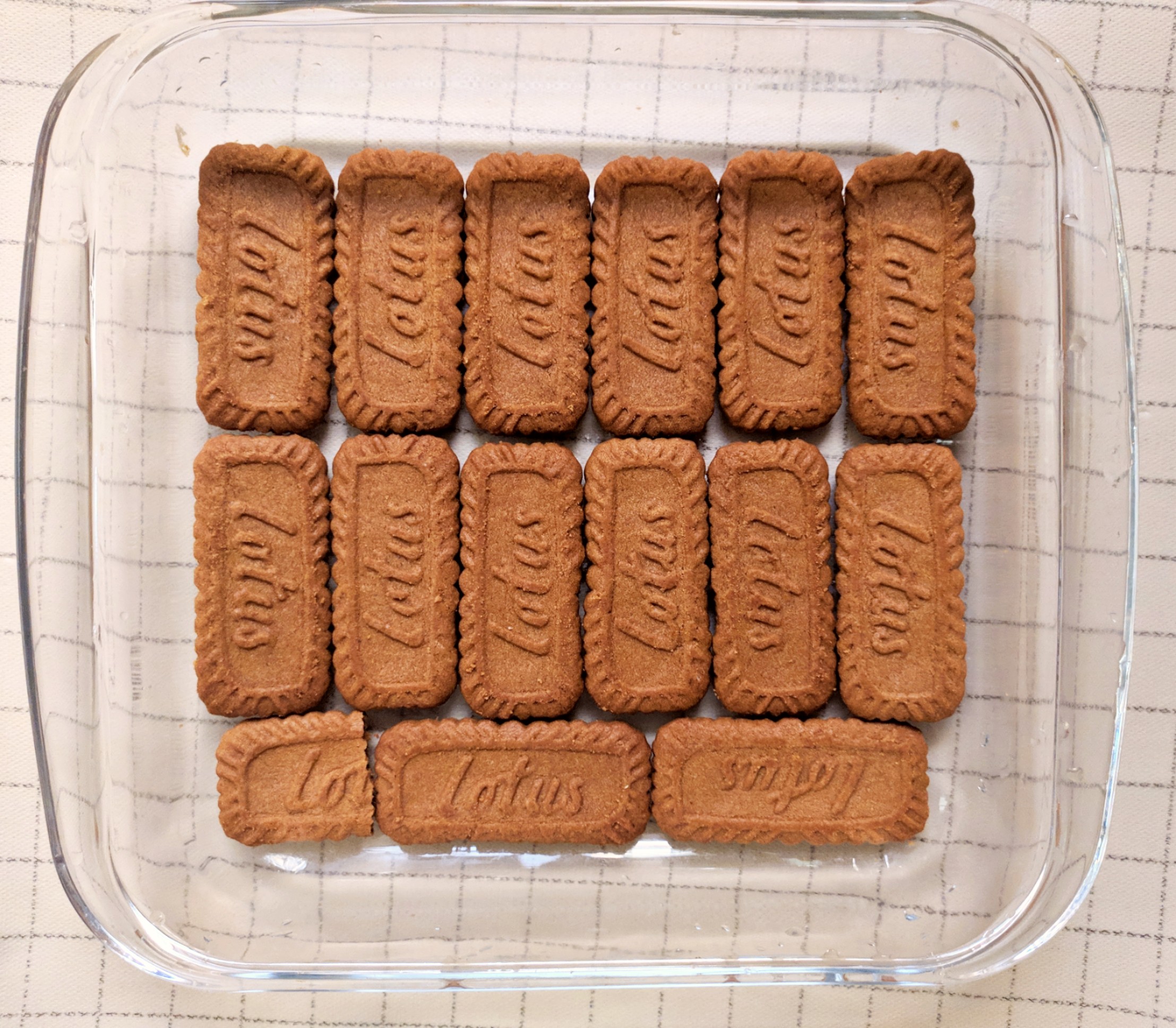 Just put the biscoff biscuits in your dessert serving dish , covering the whole base area. There is no need of dipping these biscuits in milk or coffee mixture, as they will get soft themselves with the help of upcoming creamy layer .
Thick creamy layer:
This Lotus Biscoff Lasagna made with Biscoff cookies and cream layered goodness – and it looks just as delicious as it sounds.
Thick cream is beaten until soft peaks form and to make it a bit more creamy and smooth with some dash of vanilla and sugar.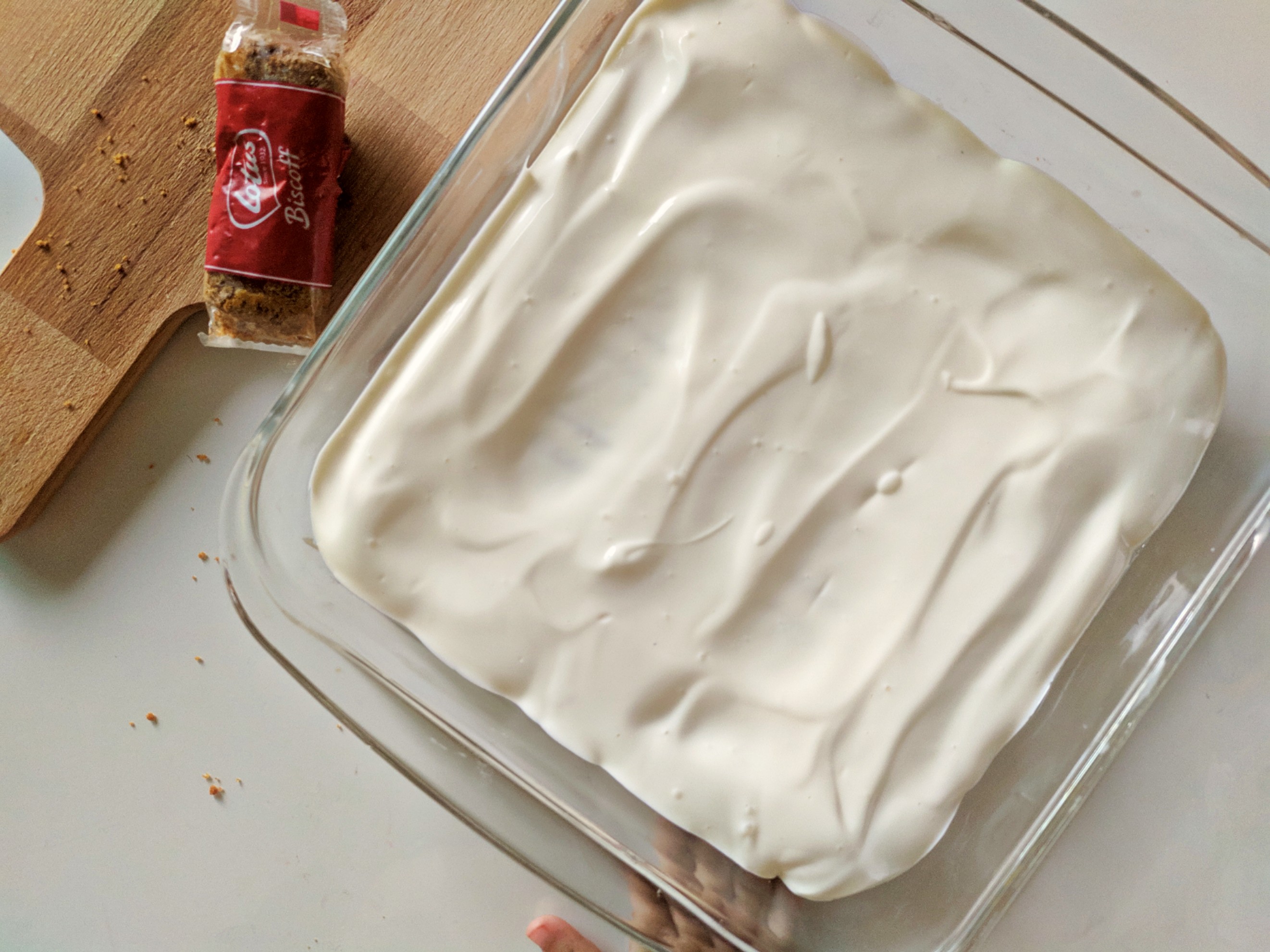 Smoothly and slowly pour the little portion of cream, covering the whole biscoff biscuits Base layer.
Lotus Biscoff spread layer:
Whether you've enjoyed the smooth form of it on fresh bread, or consumed the chunky version in spoonfuls – you've got to try your hand at this Lotus Biscoff Lasanga.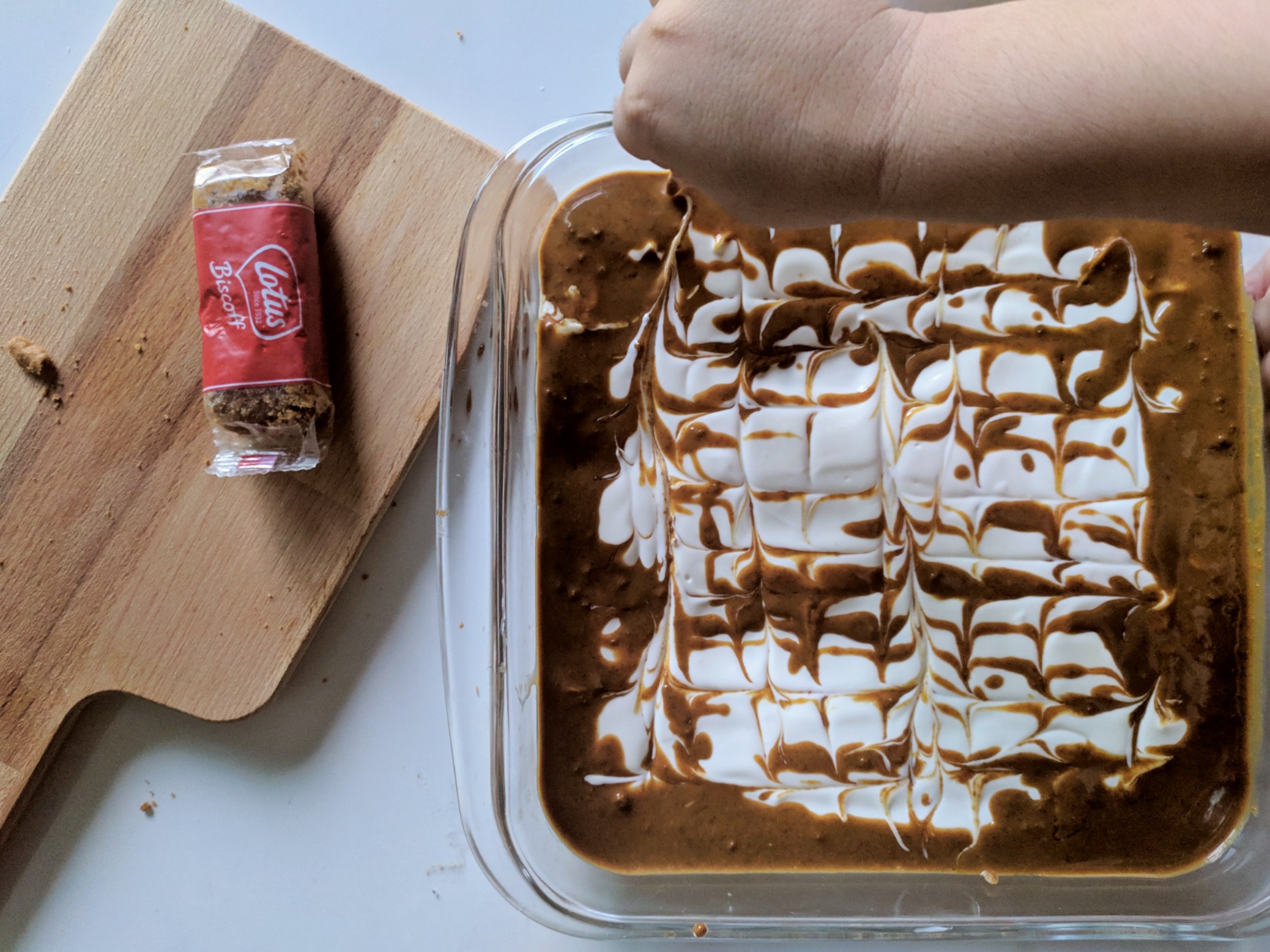 Don't get confused, as this is not the final layer of the dessert. Just because my kid was insisting to decorate it, so I let him do.
Repeat the above steps twice to complete the lotus biscoff lasagna recipe
Here I used the crunchy biscoff lotus spread , you can also use the creamy one that also works amazing.Make sure to cover the corners of the dish with the spread so that all layers will be seen separately and clearly.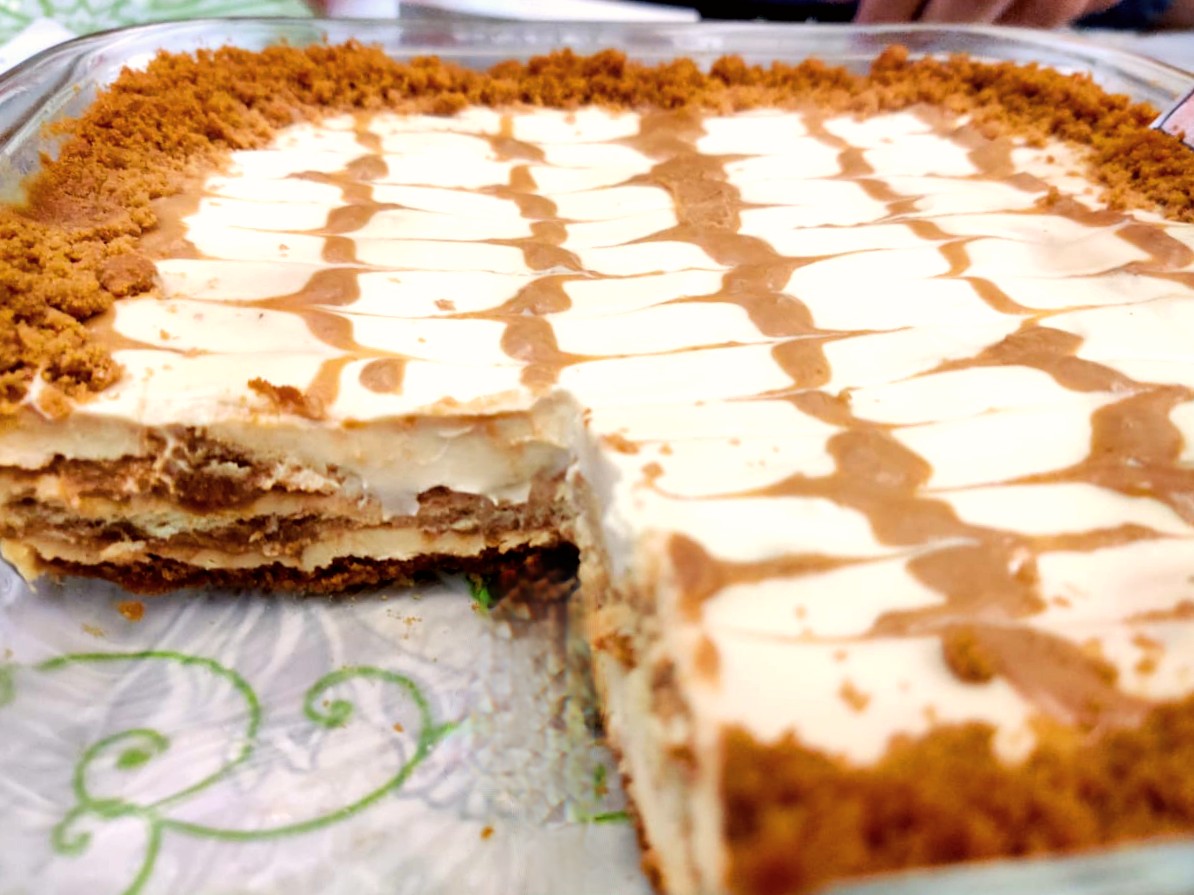 Then refrigerate it for a couple of hours and surprise your dad with this amazing and easy dessert recipe.
Lotus Biscoff Recipe Ideas:
Don't you know! These lotus biscuits are even vegan. Whether it's the biscuits as a snack or the spread smothered on toast and crumpets, or the biscoff cookie vegan,we just can't get enough.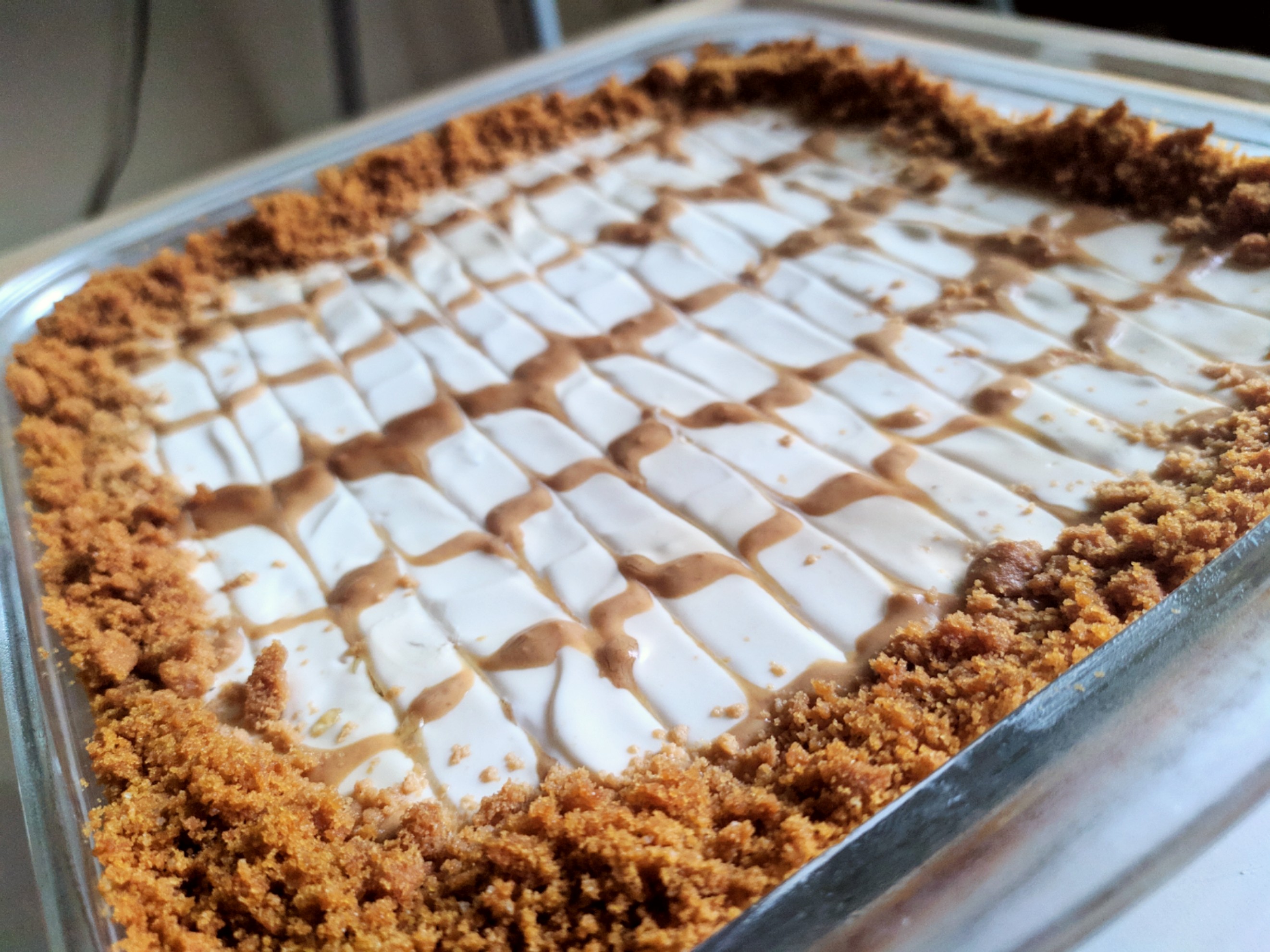 There are many other more uses of these biscoff biscuits:
Lotus Biscoff cookies
Biscoff Vegan cookies
Lotus Cheesecake
Lotus brownies
Biscoff truffles
Lotus Biscoff Cake
Lotus Biscoff donuts
Lotus Biscoff tiramisu
Variations in Lotus lasagne:
The recipe of lotus Biscoff dessert I shared below is the authentic one and comes with the amazing end product.
This recipe is perfect for those who love a light, airy consistency to their desserts but also want that richness. Its slightly similiar to the Tiramisu Recipe.
But few variations can also be made possible for either making it more rich or making it less sweet.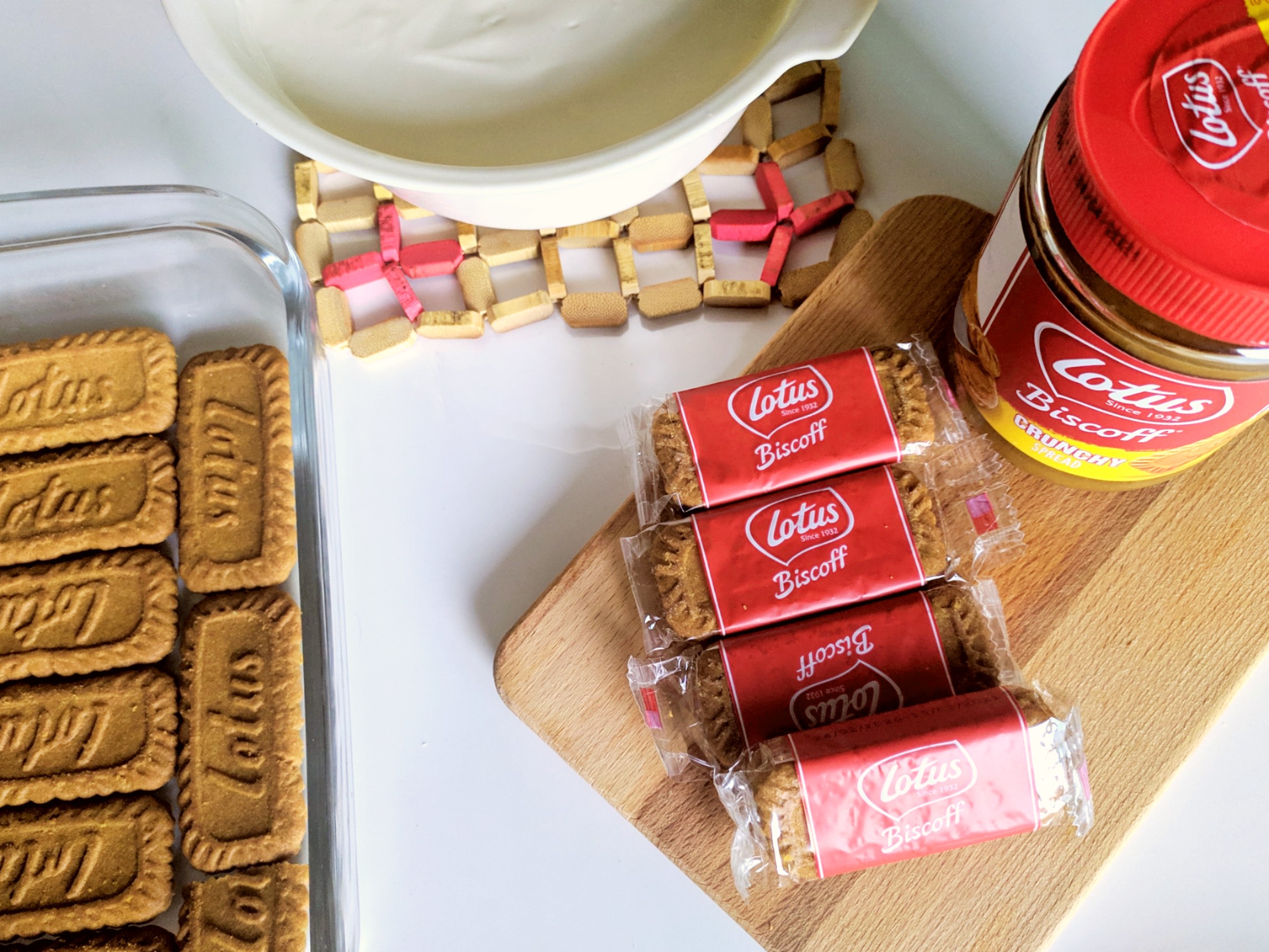 Cream cheese: Addition of cream cheese into the thick or whipped cream can make it more rich , velvety and creamy.
Whipping cream: Instead of using thick cream , you can also use whipping cream . This will add a lil more volume and sweetness to the dessert .
Lotus spread: Both crunchy and creamy lotus Biscoff spreads can used in it.For more smooth look use the creamy Biscoff spread.
Crackers biscuits: The Graham crackers or Marie Biscuits could also be used in the other layers of lasagne instead of Lotus bicsuits excepting the biscoff base layer, for those who prefer less sweetened desserts.
Cocoa powder: Garnishing with cocoa powder is also possible and it will makes it look like a tiramisu.
Coffee mixture: For those coffee lover's , you can also dip these lotus Biscoff biscuits in the coffee mixture before layering the base.
Some More Related Posts:
Lotus Biscoff Lasagne Recipe
This creamy dreamy Lotus Biscoff lasagne turned out soo good and loved by everybody! So lets move towards the recipe.
Ingredients
25

pieces

Biscoff Biscuits 25 pieces

according to serving dish

600

ml

Thick Cream

1

tbsp

Sugar

1

tsp

Vanilla essence

Lotus Biscoff spread

half bottle
Instructions
In a bowl beat together the thick cream , sugar and vanilla essence until soft peaks form.

First make the biscoff biscuits Base layer .

Place a layer of cream covering the whole biscoff biscuits Base layer.

Melt the biscoff spread in the microwave for 30 seconds or until smooth and saucy.

Drizzle on the top of the cream layer.

Repeat the steps until the serving tray looks all layered up and complete.

Garnish with lotus spread by piping lines on the top and then us skewer to make the pattern and then sprinkle crushed lotus Biscoff biscuits.

Refrigerate for couple of hours or overnight, and Enjoy with family!
Pro Tips:
You can ready this dessert a day or two days before the main event, it can stay fresh for up to a week.
Make sure to remove completely the aluminum sealing from spread bottle before microwaving .
For those who love less sweetened desserts , the Graham crackers or Marie Biscuits could also be used in the other layers of lasagne instead of Lotus biscuits excepting the biscoff base layer.
If you are living in areas where lotus biscuit is unavailable, you can also use Candy Biscuits. Its texture and flavor is almost the same as Lotus Biscuits.
---
Craving More?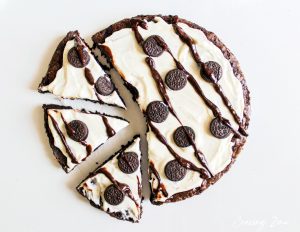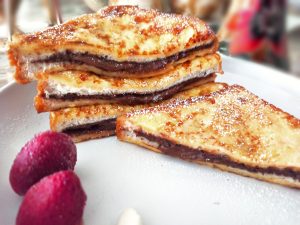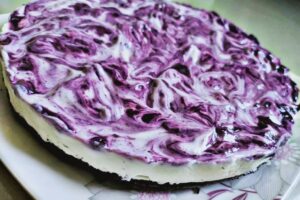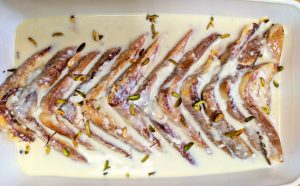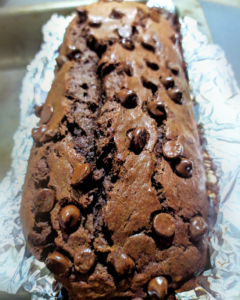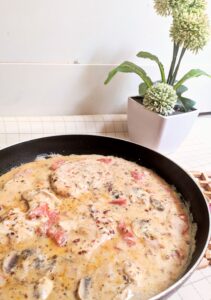 ---
Keep in touch!
Did You try this recipe? Let me know in the comments or Tag me on Instagram @the_cravingzone or use the Hashtag #cravingzone
---