Presenting the king of all meat dishes and Kebabs, The authentic Chapli Kababs, a prominent Pakistani Dish.
A beef patty that's wholesome and fully packed with flavor. These Pakistani Chapli Kababs are just so perfect for any occasion or barbeque parties, melting in the mouth every single time.
This Chapli Kabab or Beef Patty is made from ground beef mince infused with some flavorful spices and some handy vegetables. They are given a flat disc shape resembling a Patty. Just ready in minutes with a drizzle of oil. Served with amazing homemade chutney/sauce.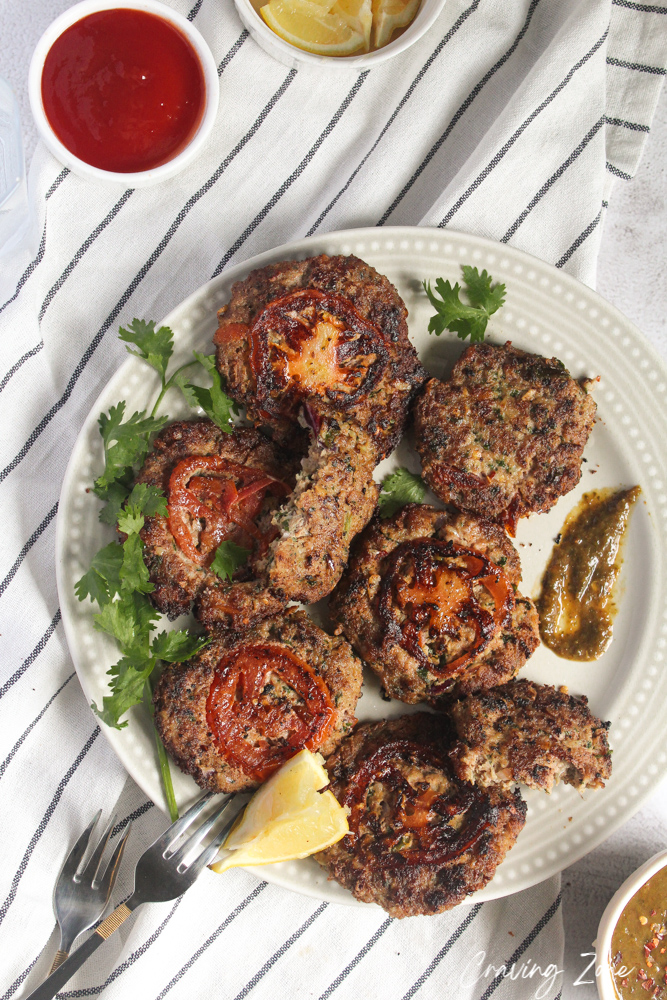 Pakistani Chapli Kabab from Beef Mince:
This is easy, super quick, and extremely delicious, flat as a disc Beef Mince kabab recipe known as Chapli Kabab and Peshawari kabab.
Even if you have no experience with cooking, you can still make them professionally once you follow the recipe accurately and go through the post carefully.
You can make lamb, mutton, or Chicken Chapli kababs too, by just replacing the meat mince of your choice.
Chapli kabab Masala:
Firstly, take the ground beef mince in a bowl, add the roasted crushed spices with some seasoning, and then chopped veggies, egg, and some fresh coriander leaves. Don't forget to add the gram flour, which helps hold the patty together. Last but not least, softened butter makes the patty soft and moist.
Additional fat pieces of lamb are mixed with mince for extra moisture and softness.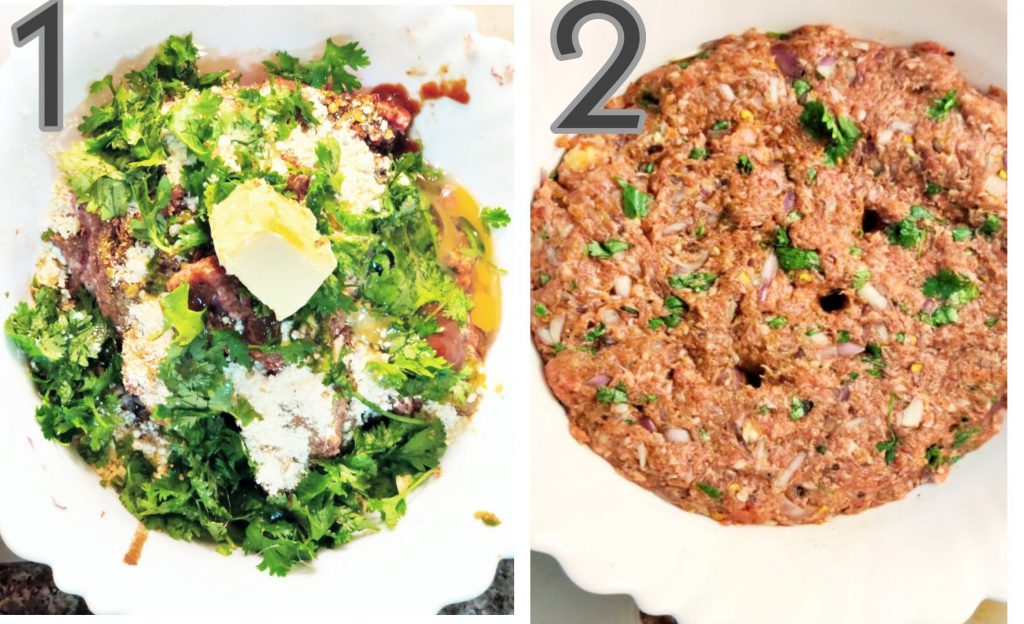 Marinate this batter for at least half an hour. Then at the time of frying, add the chopped tomatoes to the mince mixture.
This is my family's favorite one; it is juicy and hiding inside some chopped vegetables (from the Kids ) and some spices and a buttery touch. Helping the patty in holding the ingredients together is the gram flour.
This recipe is easy, mix ingredients in a large bowl, make a flat patty, and shallow fry to enjoy with naan, yogurt, or chutney.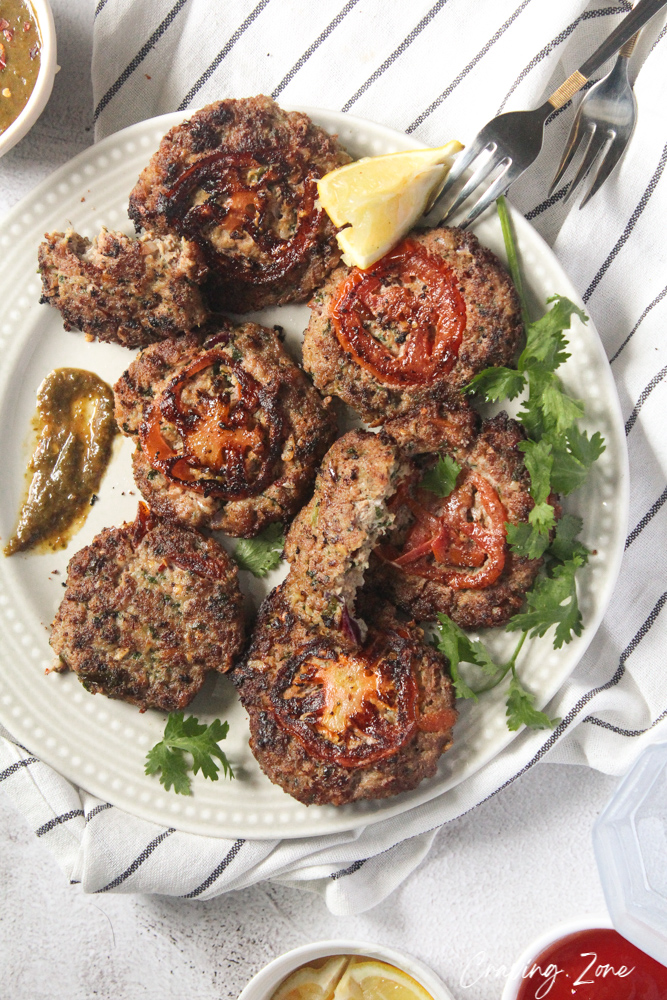 Chapli kabab flat patty / juicy Beef patty:
These juicy and succulent kebabs have a striking resemblance with the burger patties.
Start making the flat disc shape patty of the beef mince mixture by compressing it with your hands. And put a tomato slice on the top of the patty.
Remember, the patty will shrink upon cooking. Chapli kabab is usually thick and big kababs; we prefer a medium single serving size. So make shape accordingly.
You can also freeze these uncooked patties.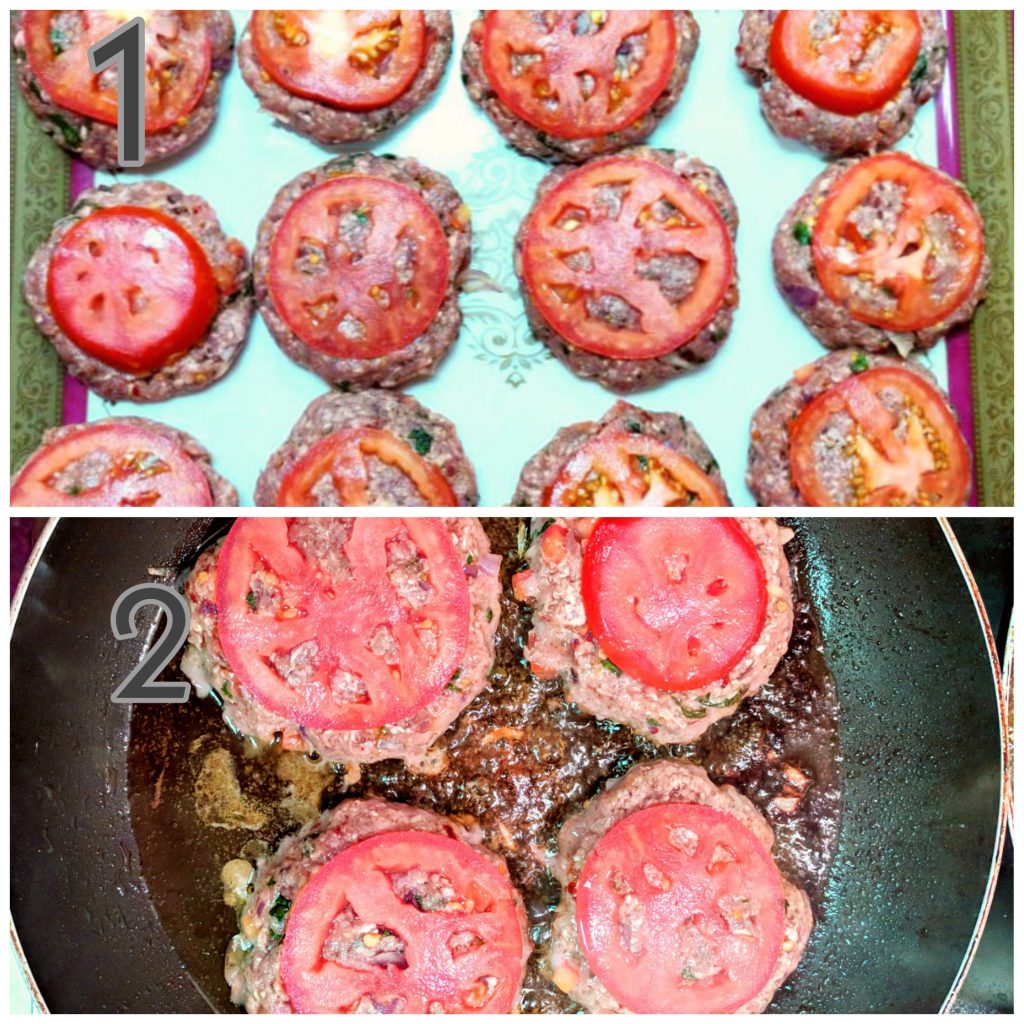 These Kababs are fried on medium-low flame with a drizzle of oil. Only make sure one thing that turns this kabab a single time once the side is fully done or looks golden. The more you turn, there will be more chances of breaking the patty.
You can also fry them in ghee, butter, olive oil, etc. But for making it more healthy, grill them on a greased pan and serve hot.
Beef Chapli Kabab:
They are ideal as an appetizer with some chutney or a meal with some tandoori chapatti, naan, taftaan, or Sheermaal.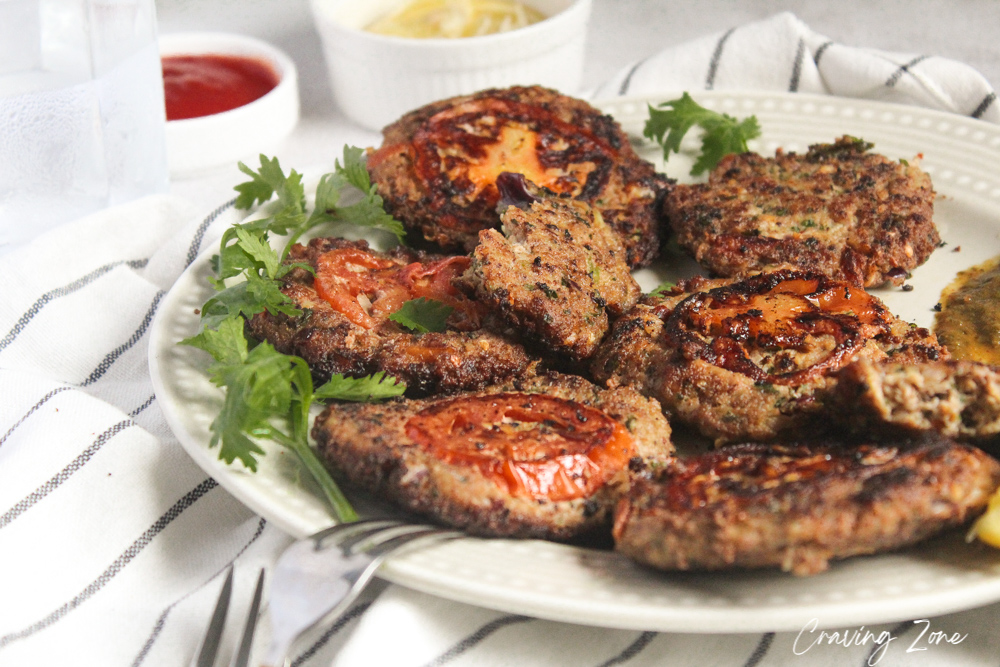 The outcome is perfect on the palate, and thus the region and the original chapli kabab makers deserve the highest grade on sharing this delicious local classic with the rest of the world.
CHAPLI KEBAB FOR KETO?
Since these are high-fat kabab, they can make a great keto main course. Make sure to reduce or skip onions and tomatoes. Use almond flour instead of cornflour as a binding agent. Also, add extra fat lamb fat pieces in the center of the kabab when you roll it.
Some people also add scrambled eggs in the raw mince to mimic fat like the taste. I just found it an extra step that doesn't make a lot of difference in taste. If you wish, you can add it to meet your daily macros.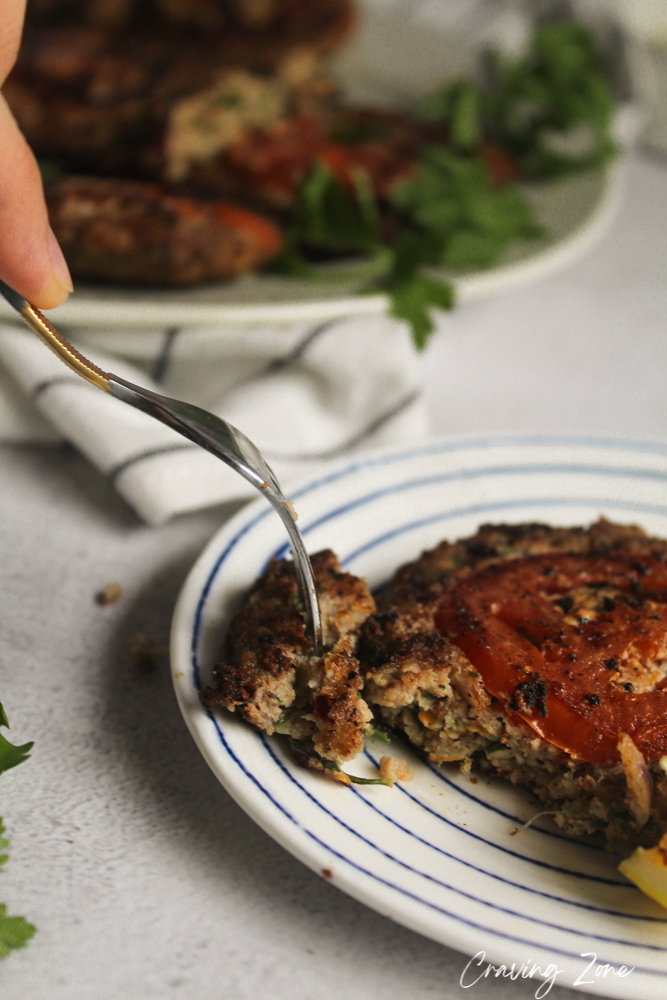 Special spicy coriander leaves Chutney:
This is my mum's special recipe, which she always makes on some special events with these authentic Pakistani Chapli Kabab.
All you need is a bunch of coriander leaves with some fresh garlic and green chilies and tomato, some seasoning and secret ingredient tamarind /imli paste; just blend all, and the dip is ready.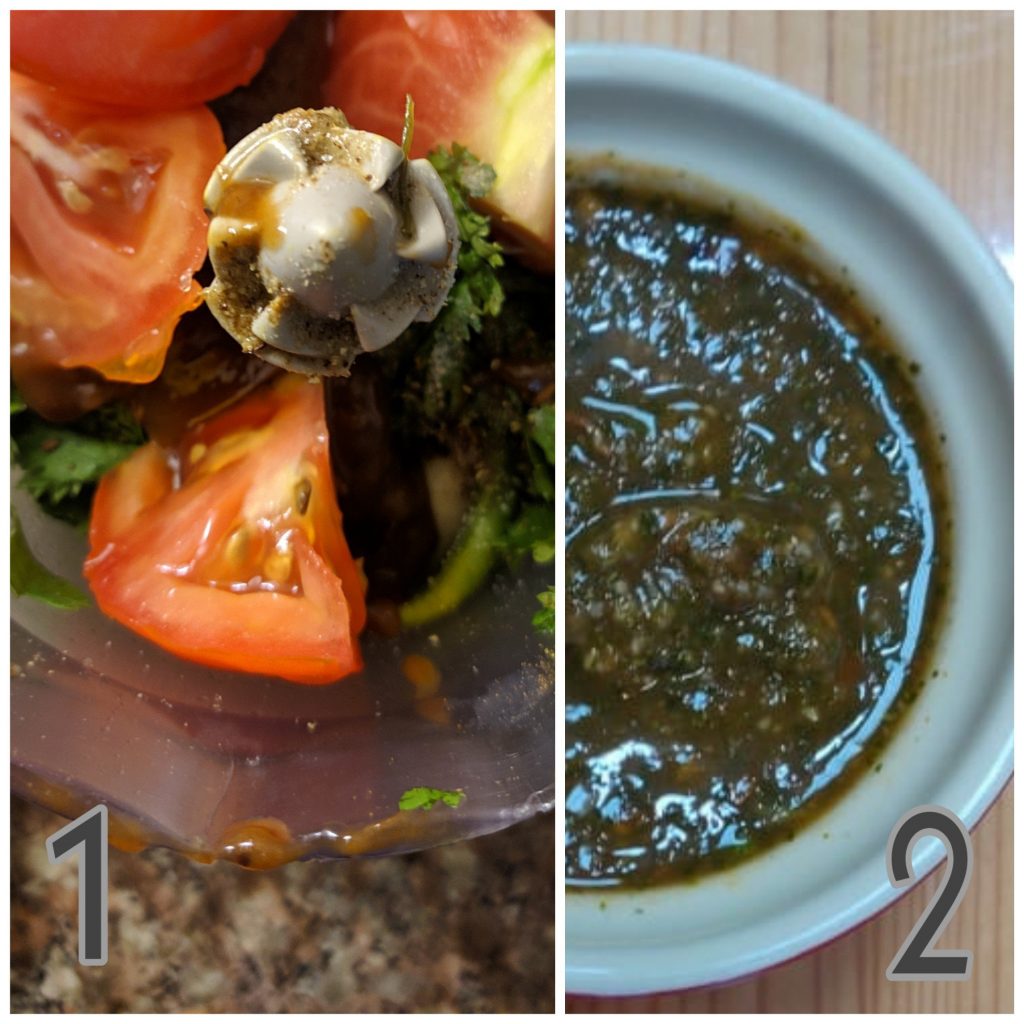 I just asked for the recipe at the last moment. And I m so excited to share the recipe with you, guys, as it tastes aaahmmazing. Must give it a try and let me know in the comments.
Pakistani Chapli Kabab Recipe:
Chapli Kabab recipe is the most favorite to eat in breakfast, lunch or dinner.
Ingredients
½

kg

Beef Mince

2

tbsp

lemon juice

1

tsp

Whole spices powder

2

tbs

Gram flour

3-4

Green chilies

chopped

1

tsp

Salt

or to taste

2

tsp

Chili flakes

1

tbs

Coriander seeds

roasted & crushed

½

cup

Coriander leaves

chopped

½

cup

Onions

chopped

1

Egg

2

tbsp

Butter softened

½

cup

Tomatoes

chopped

3

tbsp

Oil for grilling.
For spicy Chutney / Sauce:
1

cup

Coriander leaves

5

pieces

Garlic cloves

1/2

cup

Tomato

2

tbsp

Tamarind paste

3

Green chilies

1/2

tsp

Salt

1/3

tsp

Black pepper

1/2

tsp

Crushed cumin
Instructions
In a bowl, add beef mince, lemon juice , whole spice powder, gram flour, green chilies, salt, red chili flakes, coriander seeds, coriander leaves, onion, egg and butter. Mix well. Refrigerate mixture for 30 minutes.

Before frying add tomatoes, mix well. Make flat disc shape patty then fry each side for 4-5 min on low flame until it done. Avoid turning sides in between.

For chutney blend all things together , keep check on your desired consistency.

Serve the kebabs hot with special spicy chutney and Raita.
Pro Tips:
You can double the ingredients if you wish to increase the mince meat quantity.
Mix the chopped tomatoes at the time of shaping them otherwise they will leave some water and will make batter thin.
Increase or decrease the amount of green chilies as per your requirement.
You can make chicken or mutton chapli kebabs too just replace beef mince with chicken mince.
If you do not want to add lemon juice in Chapli Kebab, then add pomegranate dry seeds powder or tamarind paste.
---
More Beef Recipes: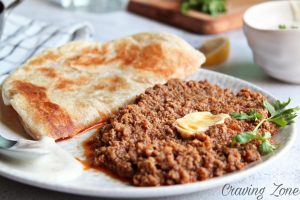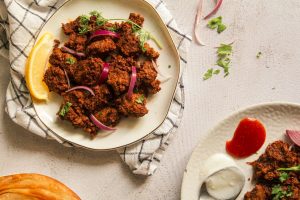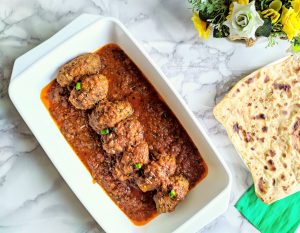 ---
Did You try this recipe? Let me know in the comments, or tag me on Instagram @the_cravingzone. Also, please consider leaving a star ⭐️⭐️⭐️⭐️⭐️ rating in the comment section below.
---