A spicy, saucy, extra creamy cheesiness wrapped in a crispy and flaky samosa pocket. These easy-to-make spicy cream cheese samosas are the perfect snack on the iftar table for all cheese lovers.
Super easy creamy, spicy samosas are such a great quick flavour fix! They are also freezer friendly and versatile from their filling to the cooking process; they can also be made healthier or as desired.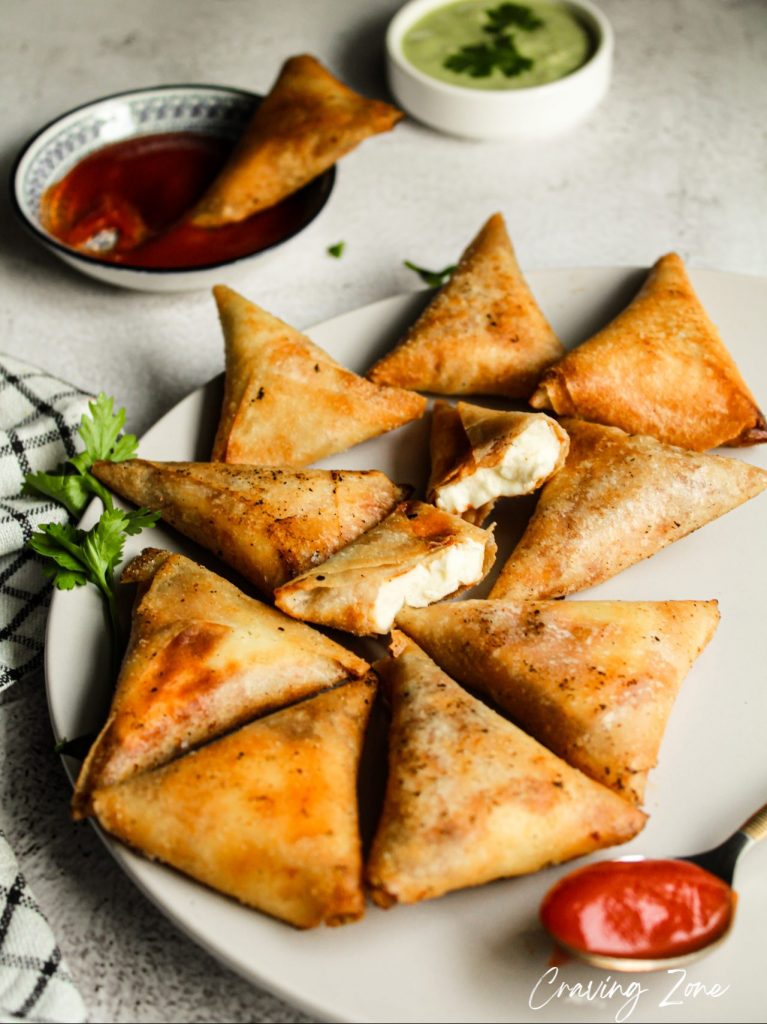 TABLE OF CONTENTS:
1. What is Samosa?
2. Types of Samosas
3. How to make spicy cheese samosa
4. Three methods of making cheese samosas
5. How to store & reuse frozen samosas?
5. Recipe of spicy cheese samosa
6. Pro tips
7. Related recipes you might like
What is Samosa?
Samosa is the thin pastry triangle filled with vegetables, meat, cheese, and spices, then are fried or baked until golden and crunchy. Samosa is also known as Samboosak. The word comes from the Persian word 'sambusa,' which means triangle.
Easy cream cheese samosa recipe:
These spicy cream cheese samosas are made with a triangular-shaped pastry/leaves, filled with triangle cheese dipped in spicy sauce, locked with the help of slurry.
Samosas are among the most popular snacks in Pakistan and India, and several countries of the world. But it is widespread street food in Pakistan, like literally, you get samosa and chai at every other street corner.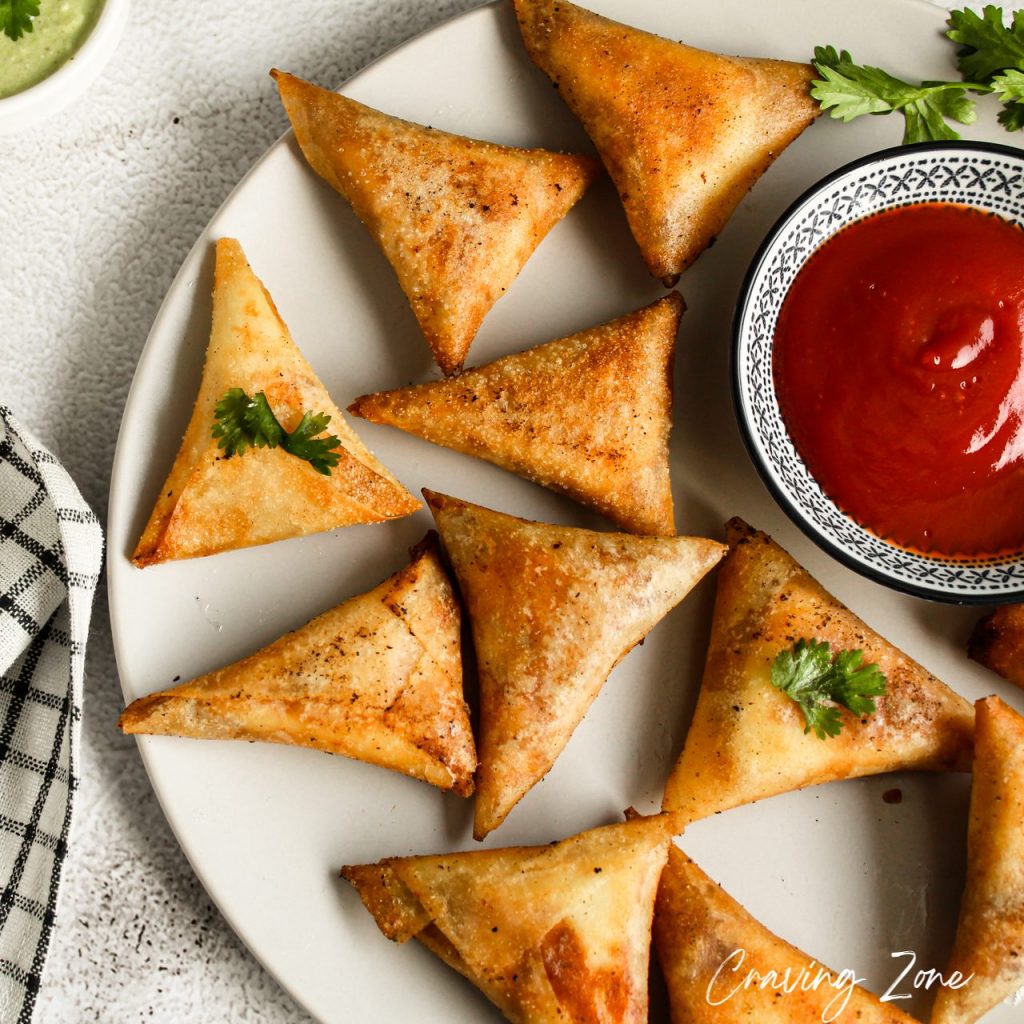 Types of samosas:
Samosa is one of the most versatile appetizers, and you can stuff them with whatever filling you like, either sweet or savory. Few commonly made samosas are mentioned below,
Punjabi samosa
Keema samosa
Sweet samosa
Potato samosa
3 Cheese samosa
Chicken samosa
Tandoori Paneer samosa
Tikka samosa
Lentil samosa
Veg samosa etc.
How to make spicy cream cheese samosa?
Let's make the perfect spicy cheese samosas at home! They are super crisp from outside, creamy from inside, and that layer of spicy sauce is just the perfect touch needed to turn them from sweet or savory.
Two steps cream cheese samosa:
An easy peasy, spicy, cheesy samosa can be ready quickly.
Only two simple steps with much less stress.
1. Making of spicy sauce:
For the Spicy Sauce, you only need tomato ketchup, chilly garlic sauce, soy sauce, black and white pepper powder, chicken powder, red chili flakes, and some hot sauce. Mix everything well in a bowl.
Feel free to spice the mixture up if you're in the mood. Italian seasoning, mint, or some heat would be perfect.
2.Making of samosas :
Take one cream cheese triangle and dip in the spicy sauce and then fill in the samosa wrapper and seal the edges with the flour slurry.
Place all wrapped samosas on a plate and fry/bake directly or freeze for later. Samosas are typically served with a dip or tomato ketchup. The purpose of the dip is mostly to cool the heat of the samosa down.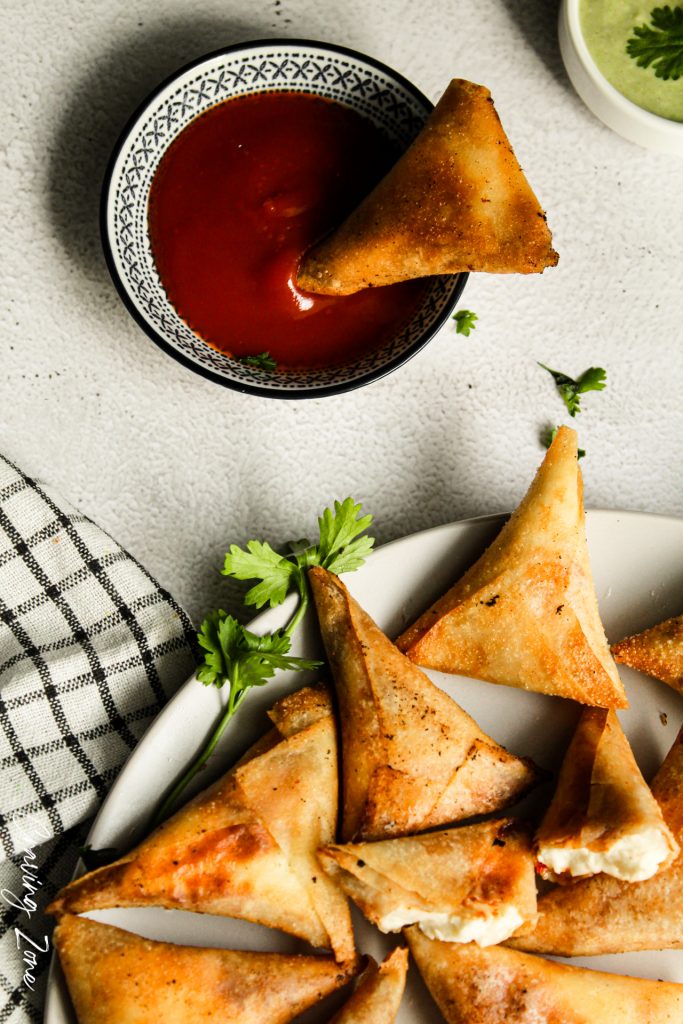 Three Methods of making Samosas:
1. Fry samosa:
Mostly the samosas are deep-fried in oil for the best results as they are one of those snacks enjoyed at their best without thinking about being healthy.
2. Baked samosa:
Yes, baked samosa is a healthy version for all health-conscious people. The only con of baking samosa is that you don't get the perfect golden brown samosas.
3. Air fried samosa:
Air frying samosas also gives good results when brushed with some oil. They come out perfectly crisp and also a bit golden in color. But it usually takes more time than frying & baking.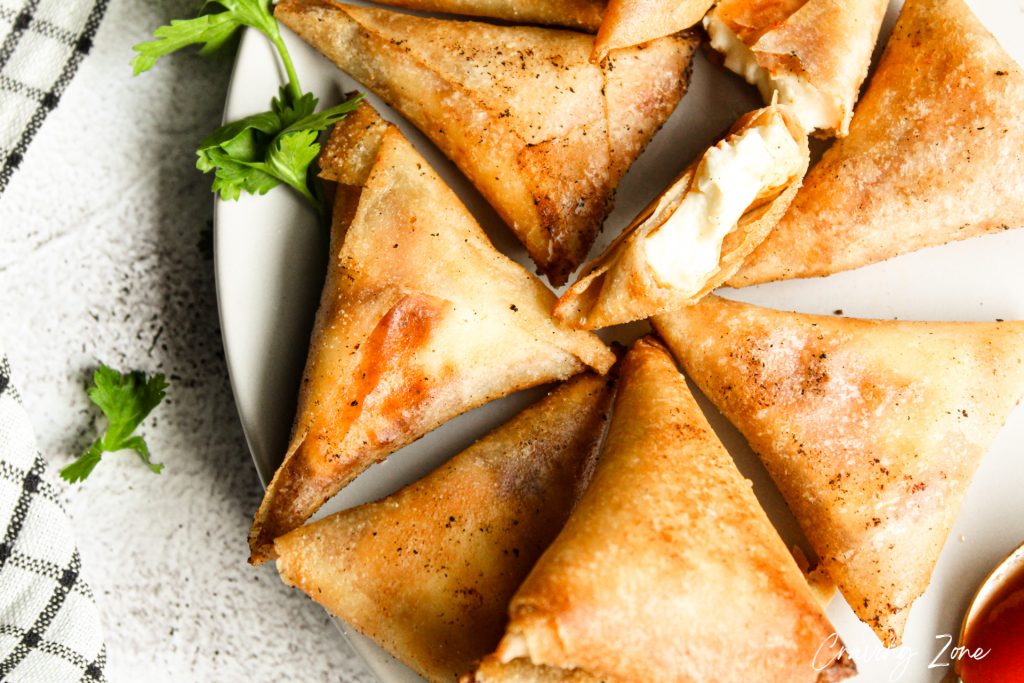 How to store samosa?
Once the samosa is filled and shaped, you can freeze that uncooked samosas in a tray. Once frozen, shift to an airtight container or a zip lock bag. It can stay up to a month. Consider doubling the recipe and freezing for rainy days, or best to store them for the holy month of Ramadan.
How to use Frozen samosa?
Whenever you plan to fry the frozen samosas, make sure to keep them out of the freezer for a couple of hours. Once thawed, you can fry, bake, or air-fried them.
You might like more snacks recipes:
Spicy Cream Cheese Samosa
Spicy Cream Cheese Samosas are our favorite evening snack & Iftar treat in Ramadan! Easy to make cheese samosas with two minutes filling and ready-made samosa sheets, are also freezer friendly and can be baked or fried as you like.
Ingredients
10

sheets

Samosa

(Patti/strips)

10

pieces

Triangle cow cheese
For the flour Slurry
3

tbsp

All purpose Flour

1/2

cup

Water
For the Spicy Sauce
2

tbsp

Tomato Ketchup

3

tbsp

Chilly Garlic Sauce

1

tbsp

Soya sauce

1/2

tsp

Black pepper powder

1/2

tsp

White pepper powder

1/2

tsp

Chicken powder

1

tsp

Hot sauce

1

tsp

Red Chili flakes
Instructions
Mix everything from the spicy sauce list in a bowl.

Make a flour slurry by mixing all-purpose flour with about1/2 cup of water.OR, you can also use just the plain water if you like, for sealing the Samosas.

3. Take one cheese triangle, dip in the spicy sauce, fill in the samosa wrapper, and seal the edges with the flour slurry. Repeat the steps for each samosa

Place all wrapped samosas on a plate and fry/bake directly or freeze for later.
Pro Tips :
Make sure to seal/ wrap samosas properly or the cheese could ooze out during frying.
Just fry the samosas for few minutes to give it a golden color.
While wrapping a samosa, don't forget to cover the other sheets with a tea towel, to prevent it from drying out.
For best ooey gooey samosas, serve immediately after frying. On the other hand, the cooled samosas will remain nice and cheese will be soft but not that melty.
---
Craving More?
---
Did You try this recipe? Let me know in the comments, or tag me on Instagram @the_cravingzone. Also, please consider leaving a star ⭐️⭐️⭐️⭐️⭐️ rating in the comment section below.
---