When you are craving a fresh slice of cheesecake but you don't have time to bake, so no worries، here I am presenting you the dreamy creamy no bake Blueberry cheesecake . They are always a great treat in every season or for any birthday party , a summer  BBQ or any festive occasion. And will definitely make you saying,
Just one more bite, another thousand times.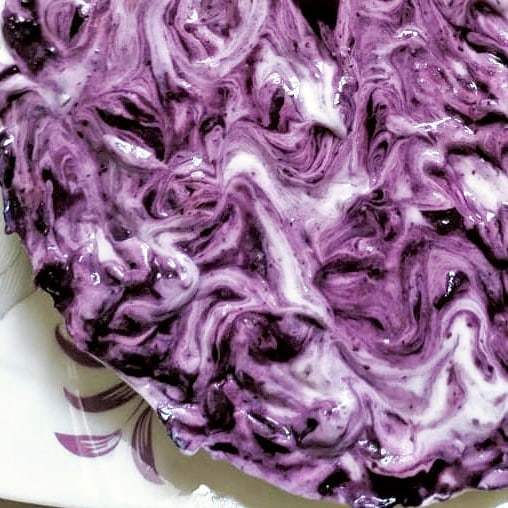 This blueberry Cheesecake is our new favorite . Fresh Blueberry sauce swirled on top taste super intense and the filling inside is just so creamy, velvety and smooth that I would love to lay in there!
Easy steps for Blueberry Cheesecake Recipe
This recipe is so surprisingly easy to put together without any eggs, flour, & food color. It just needs only three easy steps to get ready for any occasion and in any season like whenever you want cheesecake because …… Cheesecake!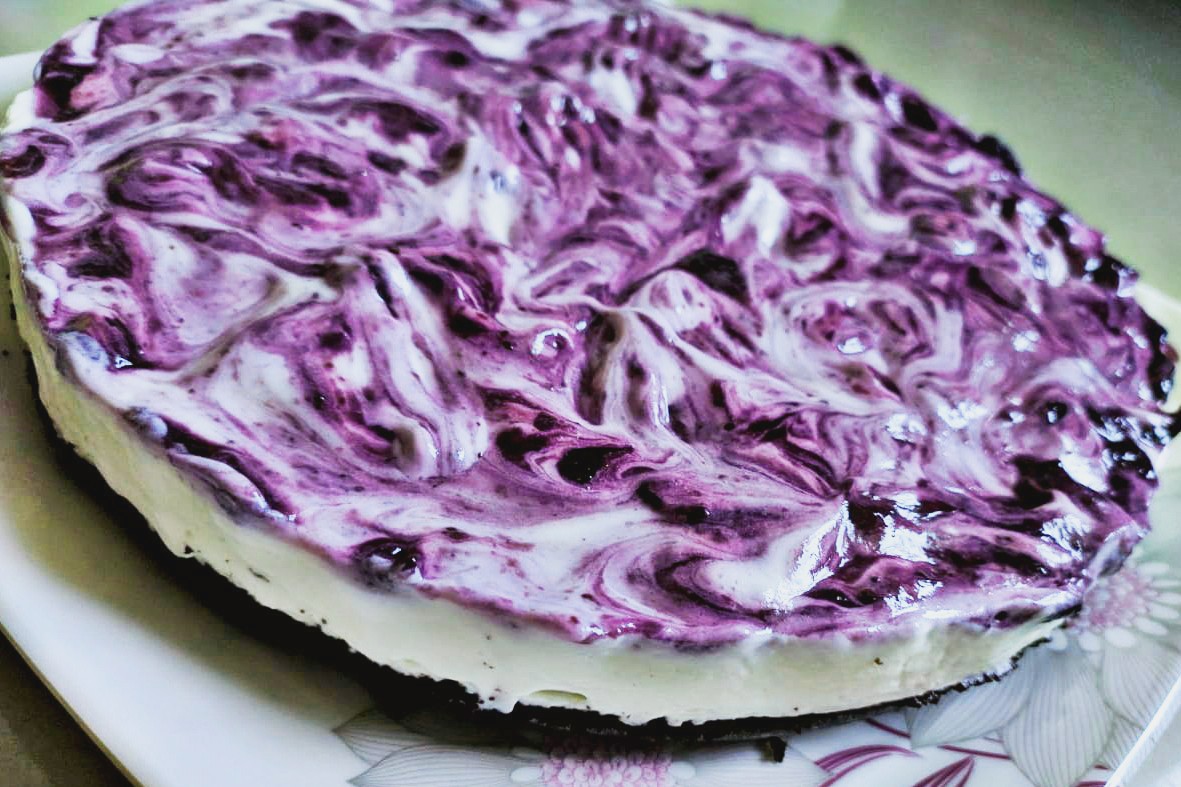 This no bake Blueberry Oreo Cheesecake is extremely easy and sinfully delicious.
Another great thing about Cheesecakes is that it can easily be changed upto use whichever biscuits you want for crust or whatever seasonal fruits for your sauce like you can use strawberries , raspberries etc.
3 STEPS of No Bake Cheesecake :
The 3 simple steps for making no bake Blueberry Cheesecake are;
Cookie crust layer.
Cream cheese layer.
Topping sauce layer.
Oreo cookie Crust Layer:
This Blueberry cheesecake starts with a buttery , no bake Oreo cookie crust.
The homemade cheesecake crust is the one you will like to make over and over again. This part is most important for the cheesecake because the combination of butter and the crumbs , make the crust holds together the batter of cheesecake so professionally without need of baking the crust.
How to make base of Cheesecake?
Firstly crush Oreo cookies into fine crumbs by using a food processor or by putting them in a zip_ lock bag and smashing them with the rolling pin. Then transfer to a large bowl and then add melted butter to it.Combine them properly until evenly moist. And then press the mixture flat evenly . Chill crust in freezer for 10 minutes.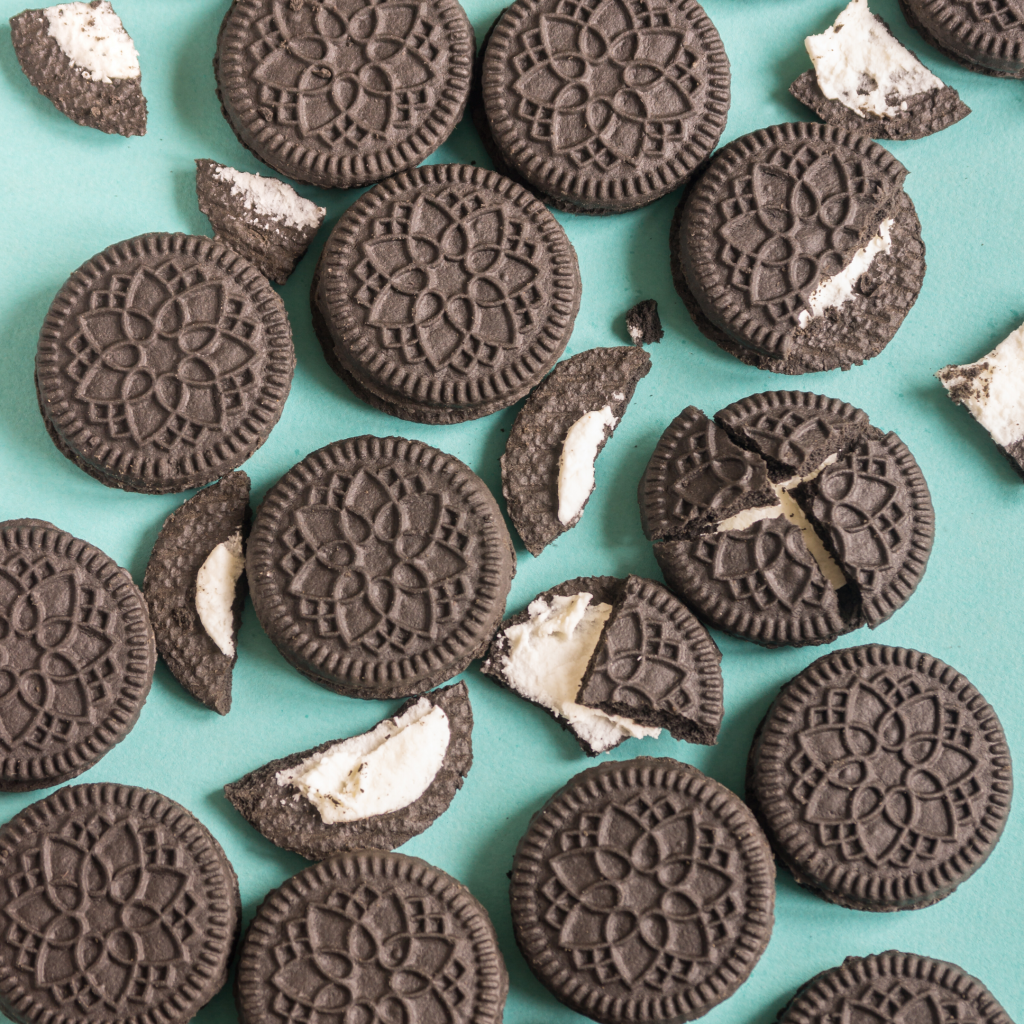 TYPES of CRUSTS for CHEESECAKES:
While many believe that a Graham cracker crust cheesecake is the only professional cheesecake but this is not always the case!
Here are some variety of Crust and ideas to make your own customized Cheesecake.
Short dough crust
Graham cracker Crust
Cream cookie crust
Digestive or Marie biscuits crust
Nuts with honey crust
Ladyfingers socked in coffee crust
Other pastries etc .
Cream Cheese Layer:
Cheesecake is just so rich and dreamy creamy dessert and it's not that hard to make. This so simple 4 ingredient cream cheese filling is fail_proof and oh so delicious ! And yes the beater was definitely licked clean by me and my son.
How to make Cream cheese layer for cheesecake?
So firstly start with heavy cream by beating it until stiff peaks form. Make sure not to over mix otherwise it will get curdle. Try to use cold cream and also cold kitchen gadgets.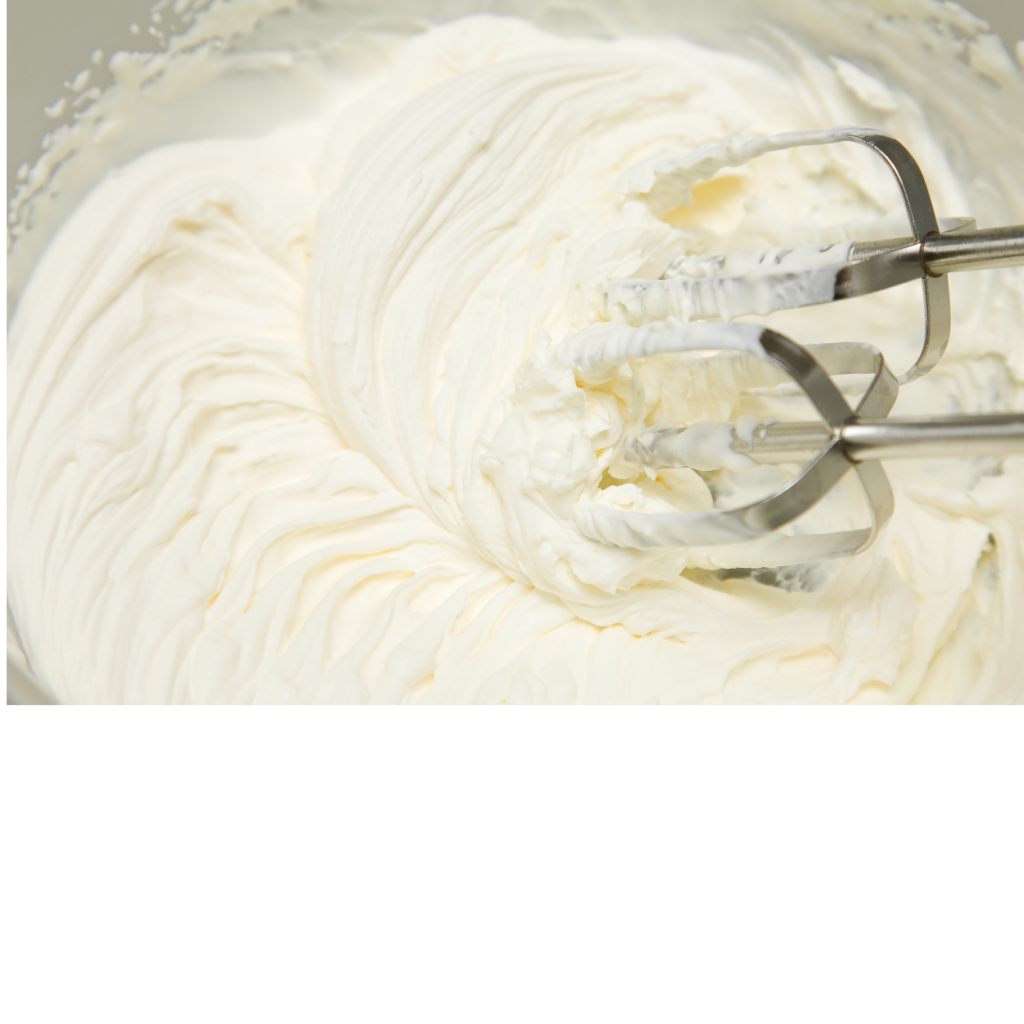 In another bowl start beating the cream cheese and sugar until well combined ,smooth and creamy. Then mix together both the cheese mixture.Then add in the prepared gelatin and mix well. Then pour it over the cookie crust and put in fridge to set for couple of hours.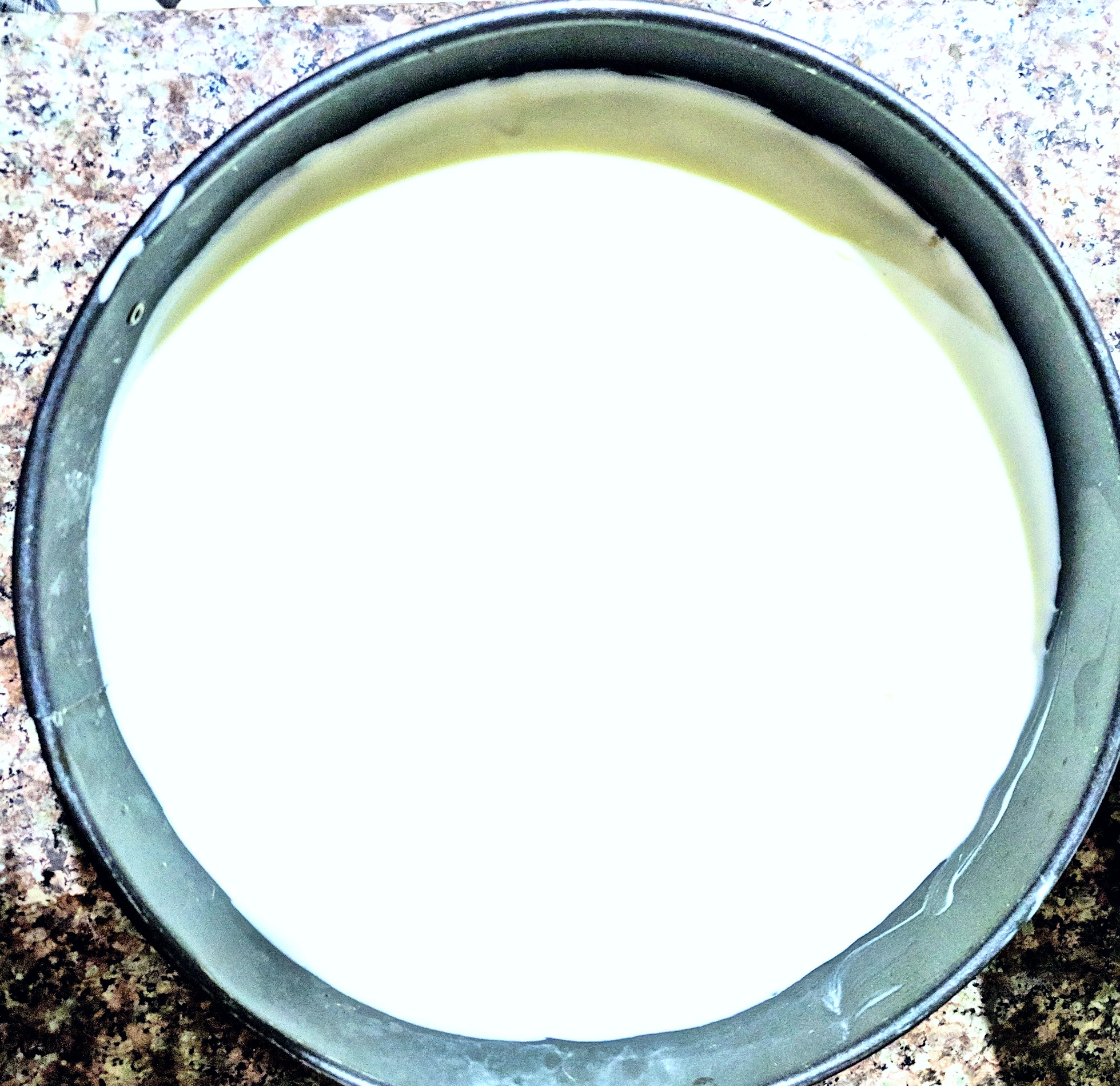 You can also save some whipping cream for the topping as the kids like it. As my son proudly say this, the more sugar the more delicious , right?
Topping Sauce Layer:
This Blueberry Cheesecake is topped with homemade blueberry sauce just made with love from scratch. You can also substitute it with the ready made blueberry jam.But I will definitely encourage you to make this sauce on your own because it's just so simple with only 3 ingredients.
How to make cheesecake Topping?
Put some blueberries in a pan , lemon juice and sugar , then cook for few minutes , if you feel it's thick you can add some water to it or if you feel too watery then cook for a lil more time or you can simply add gelatin mixture to let it set properly.

Blueberry Swirl Cheesecake:
Once cooled , the sauce should be looking like a syrup of soft blue berries. Then pour it over the set cream cheese layer . Or if u want the sauce to be smooth textured than you can simply blend it and if you need you can also strain it . Then pour it over your cake in whichever style you like.
As I make here swirls from blueberry sauce. Again refrigerate it for a couple of hours and then ready to serve after having the Pizza or Hamburger in the dinner or Chicken with Pasta in lunch, for sure public will start drooling and can't wait to dig in!
Types Of Topping Sauce for Cheesecake:
Berry toppings
Sweet Cherry sauce
Raspberry sauce
Lemon Blueberry sauce
Blackberry sauce
Caramel sauce
Chocolate sauce
Dalgona sauce
Peach sauce
Mango sauce
Pineapple sauce etc.
Other Uses of Blueberry sauce:
You can blend the blueberry sauce into the frosting or swirl it on the top of your batters or for your inside fillings. There is a vast variety of it's uses. Just simply make a big batch once and use it all over the year whenever you crave the Blueberry.
The fresh homemade blueberry sauce can be used on ;
The top of ice creams
Cakes
Waffles
Pancakes
Cheesecake bars etc.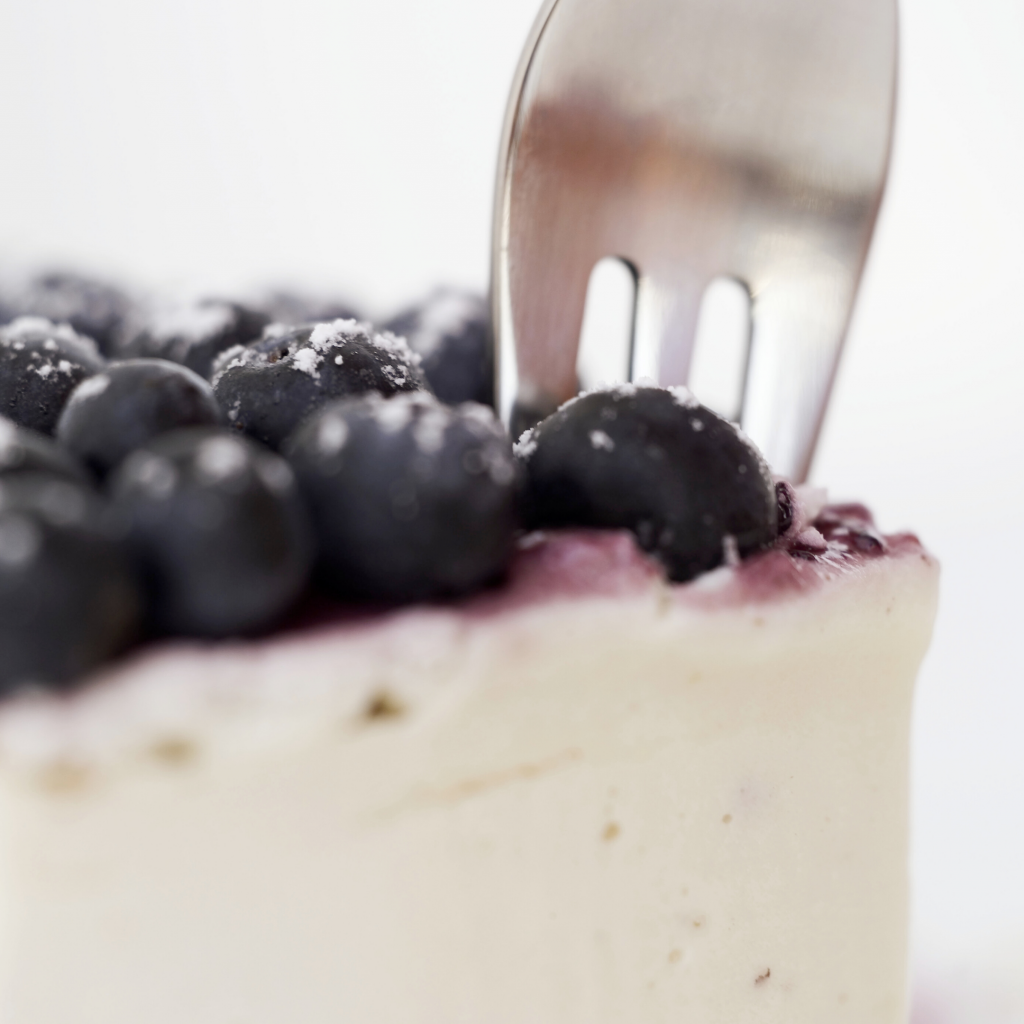 Quarantine Dessert recipe:
If quarantine = blueberry cheesecake in sweet dish after every meal then just lock me in this dungeons home office and throw away the keys.
I always prefer easy dessert recipes specially those ones that look like I spent way more time and effort than I actually Did! And yes as I am always in a rush with my toddlers specially in this quarantine life because of more work load , so this is my go to cheesecake recipe now in lock-down days and for this hot summertime when UAE already hits 40 °. So obviously hot kitchen is the last place anyone wants to be. Than here comes the rescue "The no bake cheesecake" ,ready in minutes without heating up the house by not turning onn oven . And comforting the whole family with some minimal ingredients.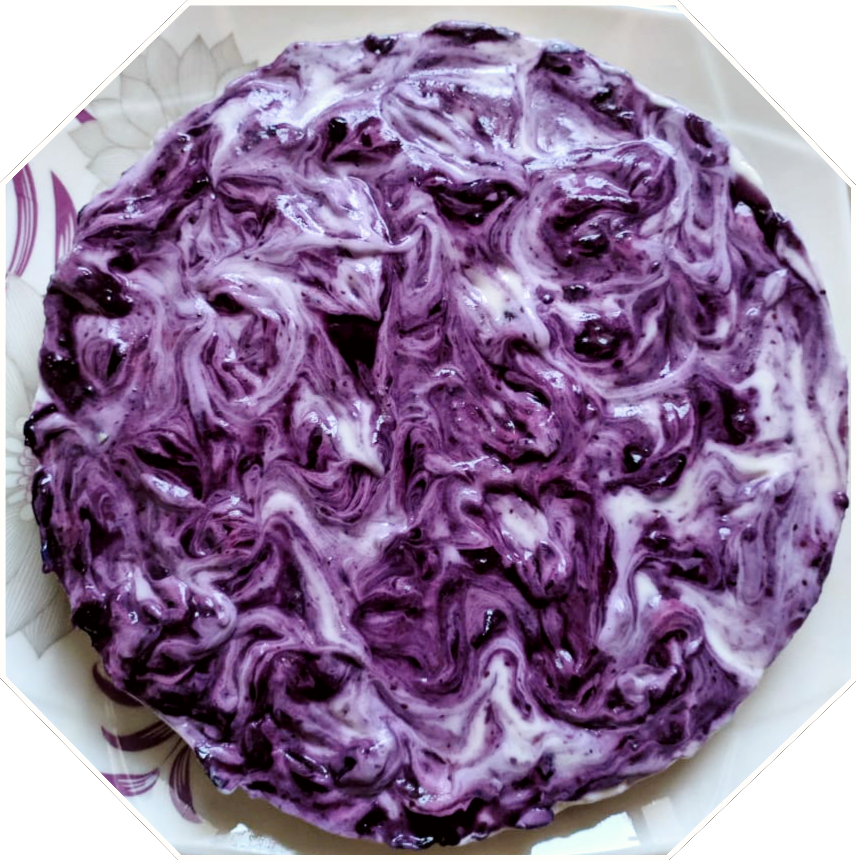 How to store Cheesecake?
Store no bake Blueberry cheesecake in the refrigerator in an airtight container , so it will last for about 5 days if wrapped properly so that it will not absorb the odors of other items in the fridge. Also Don't put it at the room temperature for more than 30 minutes.

This no _fail recipe of blueberry cheesecake will be the party favorite for any kind of celebration! Just add this recipe to your repertoire ,your family will thank you!
Also check Classic Blackberry Cheesecake .
No bake Blueberry Cheesecake
This blueberry Cheesecake is our new favorite . Fresh Blueberry sauce swirled on top taste super intense and the filling inside is just so creamy, velvety and smooth that I would love to Lay in there!
Ingredients
For the crust base :
20

Oreo Cookies

11

tbsp

Unsalted butter

melted
For the Cheesecake layer:
250

gm

Cream cheese

softened

3/4

cup

Caster Sugar

1

cup

Whipping Cream

2

tbsp

Gelatin powder

2

tbsp

Water
The topping sauce Layer:
1

cup

Blueberries

1

tbsp

Lemon juice

3/4

tsp

Gelatin

optional

2

tbsp

Sugar

1/4

cup

Water

or as required
Instructions
The Crust Base Layer
Crush the biscuits in a food processor without adding any water until it crumbles.

Add the melted butter and combine properly that it holds its shape when pressed in palms.

Transfer it to a 20 cm springfoam pan and press it firmly until it covers the pan in a nice even layer. Place it in the fridge and let it set for 15 mins or until you prepare the cream cheese filling.
For the Cream cheese layer
Firstly dissolve the gelatin with some hot water and let it cool .

Meanwhile, whip the cream cheese and sugar together until creamy and smooth.

In a separate bowl whip the cream until stiff peaks.

Add the whipped cream to the cream cheese mixture and combine together.

By this time the dissolved gelatin is added and we'll combined.

Transfer it on top of the biscuit base layer. Cling wrap and let is sit in the fridge for couple of hours or overnight.
The topping sauce Layer
Combine together the Blueberries , water , lemon juice and sugar in a saucepan.

Bring it to boil until it starts thicken.

If is not desired thicken then add gelatin and dissolve it .

Let it cool for 5-10 mins and then pour on top of the cheesecake layer.
Pro Tips:
Sauce and crust can be prepared in advance for 2 days and store them in fridge until you use them.
Don't put the cheesecake for quick setting in freezer otherwise it will not set properly.
---
You Might also like: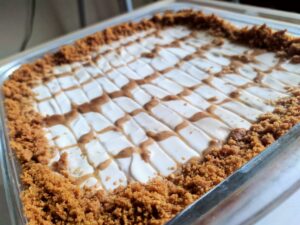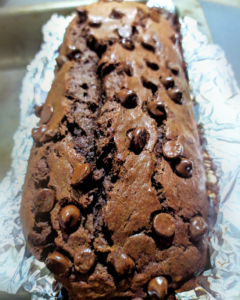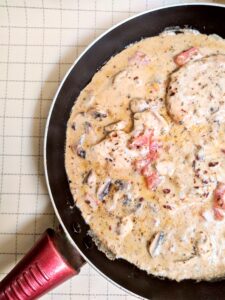 ---
Also Stay connected on Instagram:
Did You try this recipe? Let me know in the comments or Tag me on Instagram @the_cravingzone or use the Hashtag #cravingzone