Open your mouth big for taking the tiger bite of this cheesy , juicy, perfectly seasoned Hamburger .
In short you can say it ' Burger ' simply a sandwich consisting of one or more cooked patties of ground meat usually beef with some cheese and lettuce topped with either ketchup , mayonnaise and mustard etc.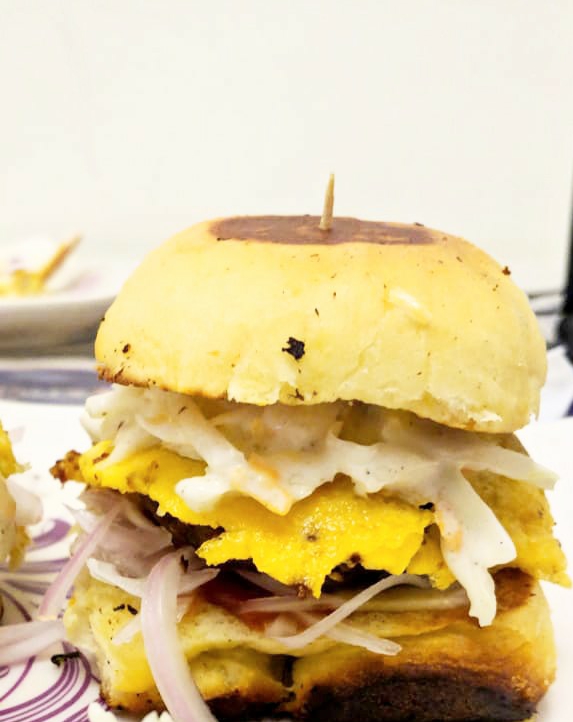 No Ham , so why it is called Hamburger?
I never even thought about this fact that there is no' Ham' in the hamburger, infect I was just so sure that 'Ham' must be the compulsory ingredient in the hamburger but I was just so wrong like so many other people in this whole wide world.
Hamburger History:
After entering into the craving zone then I came to know that there was never ever ' Ham ' in the hamburger. This word simply comes from the place known as Hamburg.
These Hamburgers could be served with side of Salad followed by the dessert of refreshing Strawberries.
Types Of Beef Burgers:
All beef hamburger : A very high quality of hamburger patty , which is entirely made up of minced beef and seasonings is also know as ' all_beef hamburger".
Cheesy Burger : Hamburger is often served with cheese , lettuce , tomato , Onion etc but the one which is topped with so many cheese is called a Cheese Burger.
Angus burger : The beef of this burger is originated from Angus cattle , and it's is popularly sold at Hardees restaurant . One of my personal favorite.
Big Mac : One of the most sold burger of McDonald's
Bacon cheeseburger: Hamburger made from cheese and bacon .
BBQ burger : Made from ground beef , onions and barbeque sauce .
Buffalo burger : Made from Buffalo's meat , they are far better than beef and chicken burgers.
Slider : These burgers served with mini buns known as slider , with some yummy saucy patty of beef or other meat, also sometimes colored buns are used . The best ever slider I have is at Slider zone.
Hamburger Steak : These burgers are served with beef steak , which is not ground.
Hamburger patty Recipe :
There are variety of ways to make Beef patty but the one hamburger patty recipe which i used here is my family's favorite one , it is not only juicy but also hiding inside some chopped vegetables (from the kids ) along with some spices and a buttery touch.Just like my Fire Chicken , Tuscan Chicken and Fajita Pizza.
Helping the patty in holding the ingredients together is the gram flour. You can also make pure beef patty by only excluding the vegetables and by using the same recipe.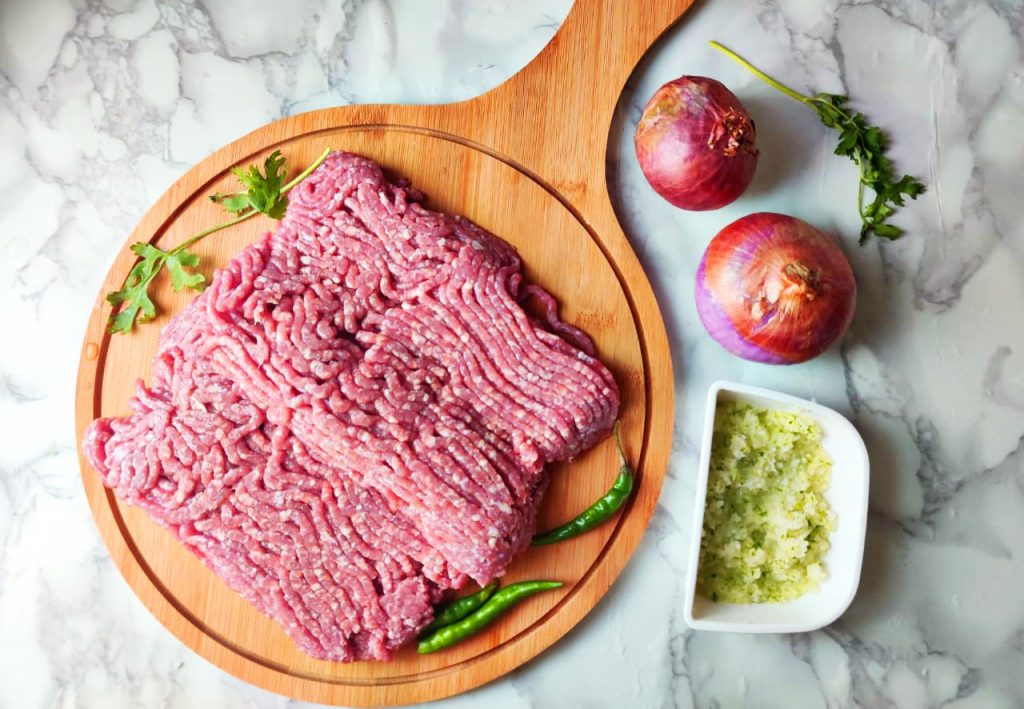 Recipes using Beef Patty marinade:
This recipe of Beef Patty marinade can also be used in many other dishes like;
For making " beef mince" ,just put all the above ingredients together then mix properly while cooking.
You can make small beef balls of this ground seasoned beef then cook them and use in your pasta or curry.
It can also be eaten in it's pure patty form commonly known as Kebabs with some tortilla , bread , naan ,roti , paratha etc , compliment it with some spicy sauces or chutnies . Would be very easy and quick item for any occasion and also could be your Eid breakfast recipe.
Uncooked marinade of beef Patty can also be used as beef filling for your homemade rolls , samosas , puff pastry and for other frying or baking Ramadan recipes.
Hamburger Bun Recipe:
Hamburger tastes better when they are served with best ever buns. As there is no restriction in the hamburger for the specific kind of bun,so you can use whatever you love. I just want to make one thing clear here that the buns which I used in the recipe are the homemade dinner rolls . If you want the recipe so tell me in the comment section I will soon upload it.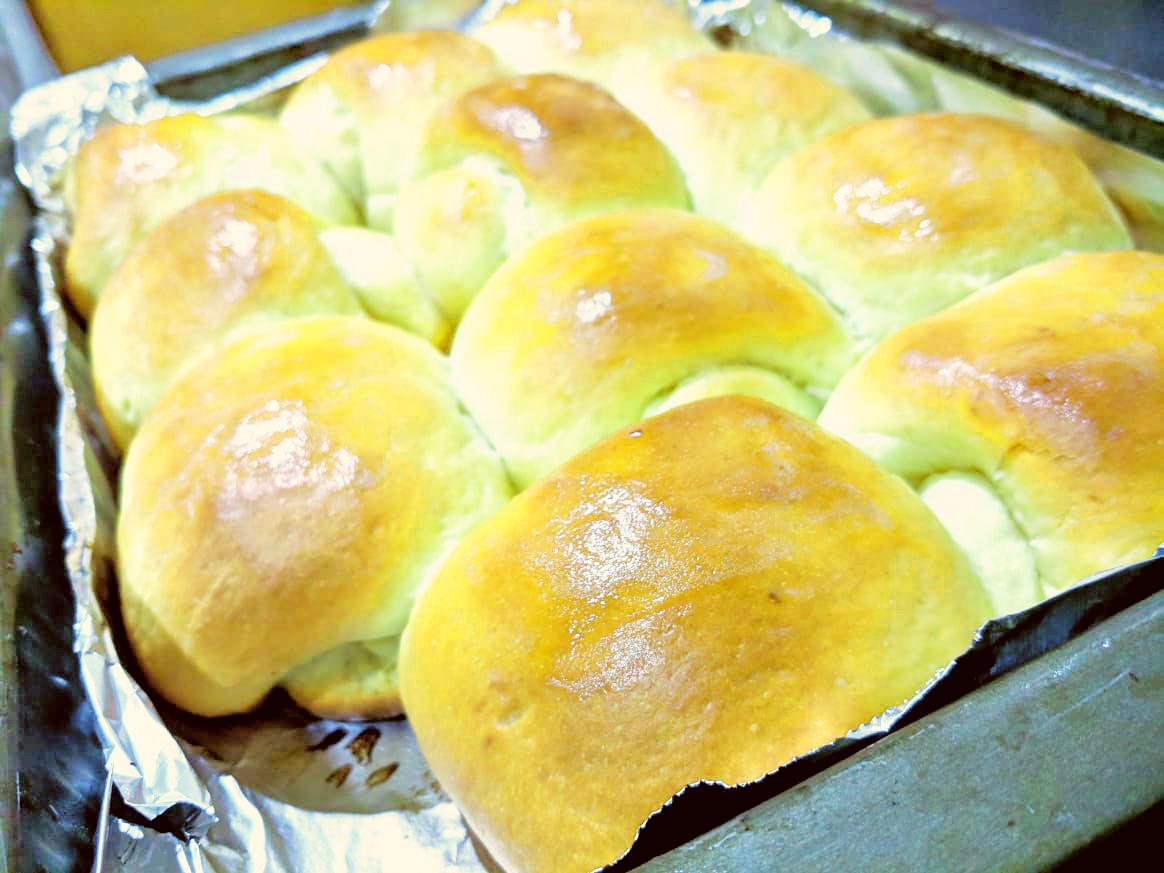 Types of Hamburger Buns:
Following is the list of those ones which I love and often use in my recipes.
Homemade dinner rolls are always the perfect combo for the beef Patty hamburgers.
Potato buns are the softest ever buns which also gives a little sweet flavor.
Sesame seed buns are most commonly used buns for the hamburger, which are not only soft but also fragrant.
Easiest option ever is to sandwich beef Patty in between toasted bread slices which are being used since forever.
Easy Coleslaw recipe :
Thin Julienne of cabbage tossed with mayonnaise and seasoned with salt and pepper. Your easy and yummy creamy Coleslaw is ready in no time.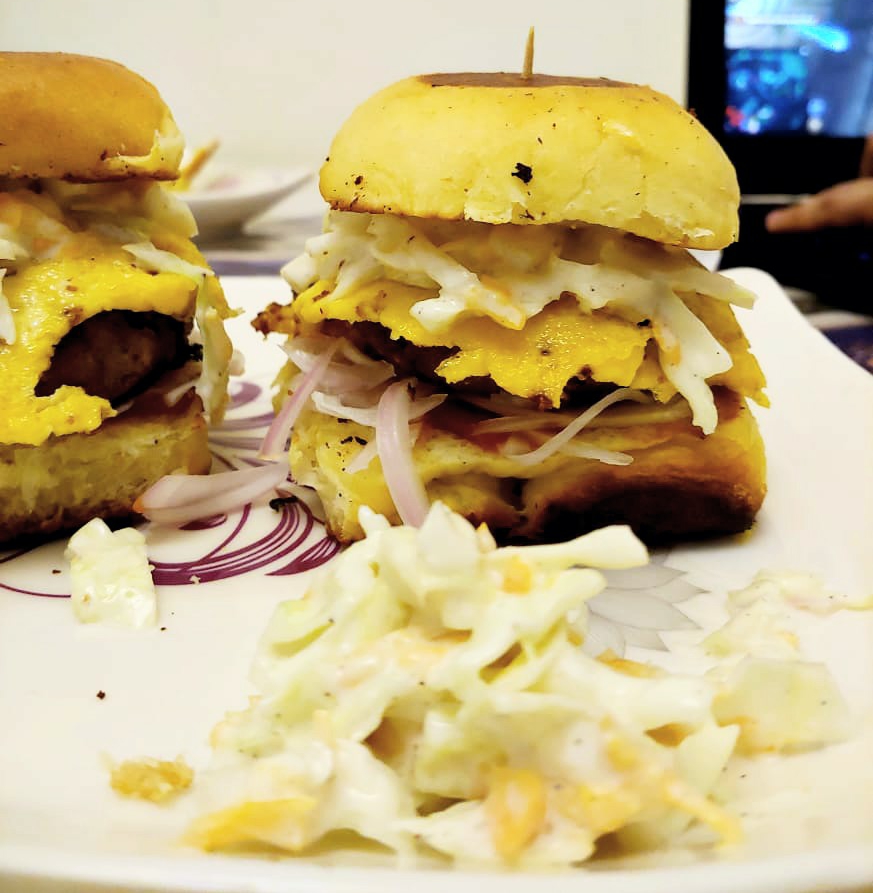 Easy Hamburger Recipe:
Open your mouth big for taking the tiger bite of this cheesy , juicy, perfectly seasoned Hamburger .
Hamburger
There are many regional and international variations of the Hamburger . So here is my Version of Hamburger.
Ingredients
For beef patty:
½

kg

Beef Mince

2

tbsp

lemon juice

1

tsp

Whole spice powder

2

tbsp

Gram Flour

3-4

Green chilies

Choppred

1 1/2

tsp

Salt

or to taste

2

tsp

Chili flakes

1

tbsp

Coriander seeds

roasted & crushed

1/2

cup

Coriander leaves

chopped

1/2

cup

Onions

chopped

1

Egg

2

tbsp

Butter

softened

1/2

cup

Tomatoes

chopped

2

tbsp

Oil

for grilling.
For Coleslaw:
1

cup

Cabbage

chopped

1/2

cup

mayonnaise

1/2

tsp

salt

1/2

tsp

black pepper
Assembling:
Down side of Bun

Ketchup

Iceberg

Onions

Beef patty

Cheese slice

Coleslaw

Mayonnaise

Upper side of bun
Instructions
In a bowl, add beef mince, lemon juice , whole spice powder, gram flour, green chilies, salt, red chili flakes, coriander seeds, coriander leaves, onion, egg and butter. Mix well. Refrigerate mixture for 10-20 minutes.

Before frying add tomatoes, mix well. Make patty then fry each side for 4-5 min on low flame until it done. Avoid turning sides in between.
Assembling Burger:
In assembling you can add any vegetable of your choice and assemble burger any ways you like.
How I did is:
On bun spread ketchup, ice burg lettuce leaf, onions , beef patty along with cheese slice, , coleslaw and top bun with some spread mayonnaise.

Grill the the burger from both sides with some butter.

Serve with some extra coleslaw and fries.

Put a wooden stick through burger to hold it in a one place.
Pro Tips:
Make sure to pat dry the ground beef other wise mixture will become thin and patty will break while frying.
Freeze the uncooked ready patty and use it whenever you enter your craving zone.
Make mini versions or sliders for kids as they look attractive and also easy to eat, also can be given in lunch boxes.
---
Related Posts: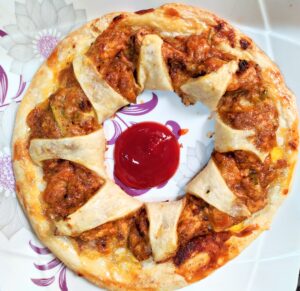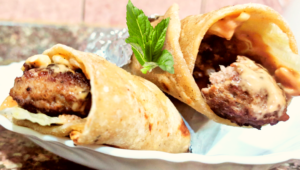 ---
Stay Connected:
---